SURF Grants

The Student Undergraduate Research Fellowship (SURF) program provides up to $3,250 in support to sophomores, juniors, and seniors interested in conducting in-depth research projects in their specific fields of study.
Students in all academic fields are encouraged to apply. Past SURF-funded projects have ranged from developing targeted delivery of a protein that fights cancer cells to a sculpture installation.
Questions? Contact Jonathan Langley at jtlangl@uark.edu or 479-575-2716.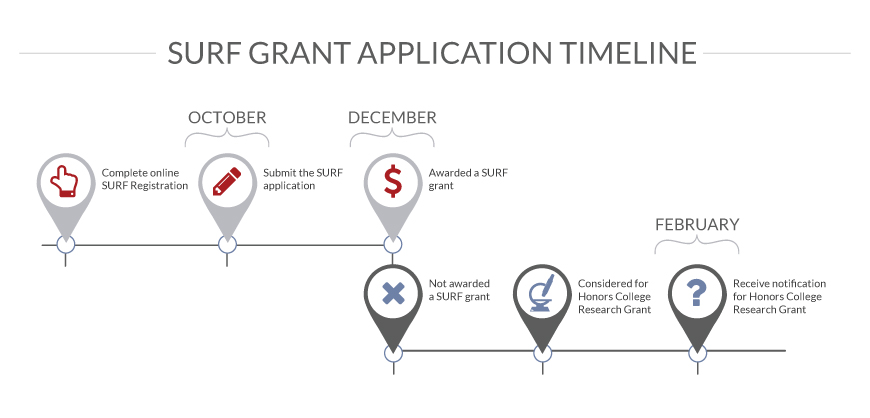 Two words about timing: start early! The deadline for applications will be announced later, but is typically in the third week of October. You can submit your application earlier in October by contacting the Office of Nationally Competitive Awards.
And keep in mind the timing of your research as well. Winning proposals are announced in December, with work expected to begin in January at the earliest, depending on the grant period requested in your application. 


Seniors with SURF grants must complete their SURF-funded research work prior to graduation.
Important tip: If you are applying for SURF, make an appointment with an advisor in the Office of Nationally Competitive Awards for application review. Email awards@uark.edu.
Didn't get the SURF grant? No worries. If you are enrolled in the Honors College your application will automatically be considered for an Honors College Research Grant.
For more information visit the Office of Nationally Competitive Awards website.
Questions? Contact Jeremy Burns at jjburns@uark.edu or (479) 575-7940.
Congratulations! The SURF grant will help you get your work done – and it's a major plus for your resume.
What's next?
The Office of Research and Sponsored Programs will contact you when they are notified of your award. The notification will be sent to your UARK email account, so please check there for any emails concerning SURF. They will walk you through a step-by-step award process.
For more information visit the SURF page on their web site.