Study Abroad Grant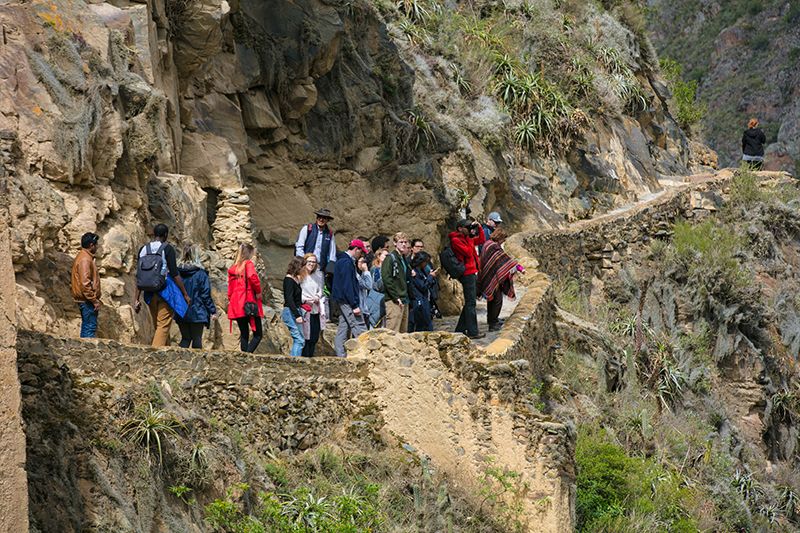 Honors students can get funding to write poetry in Ireland, partner with a community in Belize, study the business culture of India and much, much more. The application process is competitive but the study abroad experience is worth the effort. We are here to help you on your way.
Good news: We've made it easier for you to apply! We now have one study abroad grant and one application for all programs, including any UA Faculty-Led program, UA Exchange program, UA Rome Center, or a non-UA external program! No matter which program you choose, you'll apply for the Honors College Study Abroad Grant.
But remember: Only one application per academic year is allowed.
For a quick, printable rundown of the Honors College Study Abroad Grant guidelines, check out the Study Abroad Grant Cheat Sheet.
Student Application Deadlines
September 22, 2017, 4 p.m.
For programs in January 2018 intersession, May 2018 intersession, and Spring 2018.
Faculty must submit their recommendation forms by September 26.
You will find out whether or not you got the grant by October 6.
October 1, November 1, and February 1, 4 p.m.
For programs in May 2018 intersession, Summer 2018, August 2018 intersession, and Fall 2018.
Faculty must submit their recommendation forms four days after the deadline (the 5th of that month).
You will find out whether or not you got the grant within 4-6 weeks of the application deadline, so keep that in mind when choosing which grant deadline to meet.
When should you apply? As early as you can! As soon as you know which program you are wanting to do, apply by the next deadline if at all possible. While the application to apply for a particular program may not close until December or even later, funding is limited and chances of receiving a grant might decrease by the later application cycles. The pool of funds for February 2018 will primarily be targeted for Fall 2018 and Academic Year 2018-19 programs. Remember! If you want to do a January 2018 intersession or a Spring 2018 program you must apply by September 22.
Questions? Contact Chelsea Hodge at cew003@uark.edu or (479)575-3127 or Dr. Jennie Popp at jhpopp@uark.edu or (479)575-7381.
Required Application Materials
Prepare the following items, which must be submitted using the Honors College Study Abroad Grant application by the appropriate deadline.
Responses to the prompts should be in your own words and be your individual work. Pay careful attention to word, character, and page length limits. Failure to follow these guidelines will result in application disqualification.
Like all of our other grant programs, you must be in good standing with your honors program at the time of application, award notification, and departure. This includes maintaining the minimum GPA required for the Honors College and completing the six hours of honors credit if you were a first-semester freshman or transfer student when you applied.
Fill out and submit the Honors College Study Abroad Grant Application on the Office of Study Abroad website.
Questions? Please contact Chelsea Hodge at cew003@uark.edu or 479-575-3127.
Congratulations — you got the grant! Here are the important next steps:
Step 1
RSVP:
Complete and submit the Honors College Study Abroad Grant RSVP form.
Step 2
Complete your paper-work:
Contact the Office of Study Abroad (if you haven't already) and set up an appointment. They will help you with your passport, visa and other paperwork.
Step 3
Mark your calendar:
Attend the Study Abroad Pre-Departure Orientation meetings. They will take place during the semester prior to travel.
Step 4
Get your grant funds:
Funds will be deposited in your UAConnect account at the start of the term you go abroad.*
Step 6
Get credit for your course:
Before you return from a non-UA program, ask the program provider to send an official transcript to the study abroad office!
*Important UAConnect tips:
If you owe the university money, they will use your grant funds to cover those costs. So pay those parking tickets and any other outstanding fees before the start of your grant period!

You must complete your paperwork with the Office of Study Abroad before grant funds will be deposited into your UAConnect account.
Want your money faster? Set up direct deposit through UAConnect: UAConnect > student Center > Finances > Direct Deposit Setup.
Have your banking information handy before you start.
Congratulations –– and get ready for a life-changing experience!
Getting ready involves more than buying guidebooks and ordering your passport. It's important to follow the timeline above, step by step, and to read, then reread, all of the conditions below.
NOTE: Exceptions for these conditions can only be granted by the Honors College associate dean or dean. Exception requests must be made in writing to honors@uark.edu.