Curt Rom, Interim Dean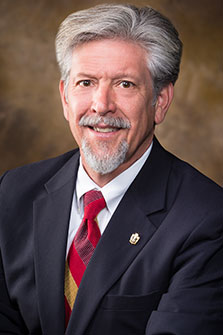 Curt Rom brings a lifelong commitment to the University of Arkansas and a passion for honors education to his role as interim dean of the Honors College. A Fayetteville native, he earned his bachelor's degree in horticulture from the University of Arkansas and master's and doctoral degrees in horticulture at The Ohio State University. He began his academic career studying apples and cherries at Washington State University, then accepted the invitation to return to the University of Arkansas in 1989, where he is now University Professor of Horticulture in the Dale Bumpers College of Agricultural, Food and Life Sciences. In 2012 he was named co-director of the Center for Agricultural and Rural Sustainability in the University of Arkansas System Division of Agriculture. Rom will serve as president of the American Society for Horticultural Sciences in 2015.

Rom's current research focuses on farm production for local markets, and sustainable and organic production of specialty crops with an emphasis on fruit crops. He is the program director and project leader of the National Strawberry Sustainability Initiative and was appointed to the Food Systems Leadership Institute in 2013.

Rom has long been actively involved in honors education at the university and has very effectively served as director of the honors program in Bumpers College since 2011. He has mentored numerous honors students, on projects ranging from the establishment of a campus community garden to organic orchard management, and has taught honors courses on horticulture, scientific reasoning and methods, and international agriculture. Rom also led study tours to Scotland, Great Britain, Italy and China as well as academic tours within the United States.

Rom received a Fulbright Fellowship to teach at the University of Padova in Italy, and has served as chair of the Faculty Senate and president of the UA Teaching Academy. Rom has received numerous teaching awards. Most recently, the Associated Student Government named him Outstanding Faculty Member in 2013.
Rom is the proud father of two UA honors students, Zoe and Clio. In his spare time, he likes to garden, root for the Razorbacks, and float the Buffalo.