Febriyanti Lestari, Graduate Assistant for Service Learning
Febriyanti Lestari, Graduate Assistant for Service Learning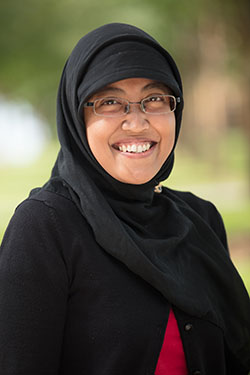 Febriyanti Lestari is the graduate assistant for the Service Learning Initiative. She assists Dr. Jennie Popp & Angela Oxford in overseeing course designations, workshop development, website updates, the student background check process, and other service learning-related duties.
She received a B.A. in English Literature from Yogyakarta State University and an M.A. in American Studies from Gadjah Mada University in Indonesia. In her home country, she is a government worker teaching at Sunan Kalijaga State Islamic University. Sponsored by the Fulbright Presidential Ph.D. scholarship, she came to the U.S. in 2014 to pursue her Ph.D. in Comparative Literature and Cultural Studies at the University of Arkansas. Her research interest stems from her desire to explore the layers of Muslim identity in contemporary Muslim diasporic literature and culture.
Besides work and study, Lestari is actively involved in community service and RSOs. Between 2016-2017, she served as President for Fulbright Scholars at the University of Arkansas (FSUA), Secretary of the International Student Organization (ISO), and Cross-Cultural Mentor. She also loves traveling solo by bus, listening to people's stories, and taking pictures. So far, she has traveled to 27 states across the U.S. Every day she enjoys Skyping with her daughter and parents back home and playing piano at the music building.