John Treat, Director of Interdisciplinary and Curricular Learning
John Treat, Director of Interdisciplinary and Curricular Learning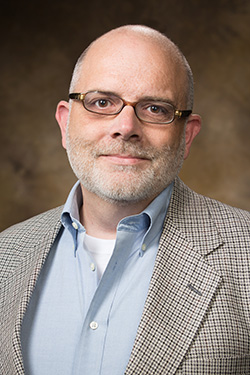 John Treat serves the Honors College Futures Hub as director of interdisciplinary and curricular learning and teaches various honors courses in the humanities and professional development. He loves mentoring U of A students and helping them find their educational and career paths.
Treat gained an extensive background in pedagogy and in program planning and evaluation from his work as a program and advancement staff member with the American Friends Service Committee (AFSC) in Boston and Philadelphia. He spent many years as a member of AFSC's global Program Consultative Group and Crisis Response Team, designing, implementing, and evaluating more than 400 programs around the globe, which ranged from Track II diplomacy efforts in peacebuilding, to food security programs in Asia and Africa, to youth empowerment programs in major U.S. cities. In his years in Boston with AFSC, he was the coordinator of an innovative graduate internship program with Harvard Divinity School.
Treat is currently working on a book from his doctoral dissertation, which traces the ways secret societies shaped the conversation around race and citizenship in the U.S. in the years between the Civil War and the Great Depression. While pursuing his Ph.D. in history at the U of A, he taught courses in U.S. and religious history and spent a year as the assistant editor of the Arkansas Historical Quarterly.
Treat earned a bachelor's degree from Lyon College, where he was a student in the Honors International Studies Program. He holds a Master of Divinity from Harvard Divinity School with concentrations in public policy, program administration and New Testament. After many years in the NGO world, he completed his Ph.D. in U.S. history from the U of A, where he was a Distinguished Doctoral Fellow and recipient of the Willard B. Gatewood History Graduate Fellowship. He is a sixth-generation Arkansawyer from Searcy with deep Ozark roots. In his spare time, he enjoys driving the backroads hunting for undiscovered plate-lunch specials and flea markets.