Katie Wilson Powell, Associate Director for Student Success
Katie Wilson Powell, Associate Director for Student Success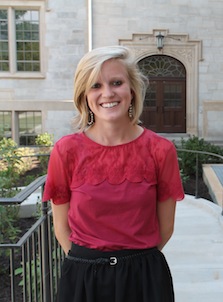 As associate director for student success, Katie Powell coordinates and manages Honors College programs that range from special events series such as Honors College Invites and House Concerts to student-led initiatives and ideas. She also contributes to service learning course development, assists with communications initiatives, and seeks to build community for current and future honors students through various campus and local initiatives.
Powell graduated from Millsaps College in 2013 with a B.A. in English and received her M.Ed. in higher education at the University of Arkansas in 2015. She served for two years as the director of civic engagement at Cornell College in Mt. Vernon, Iowa, where she gained valuable insight into civic education, the community organizing tradition and growing corn. While pursuing her master's degree Powell was a graduate assistant for programming with the Honors College, and she is thrilled to be back!
In addition to taking courses in the rhetoric/composition program at the University of Arkansas, Powell enjoys knitting, running, and reading, especially her favorite book, Anne of Green Gables.
To schedule an event with the Honors College, please email hcevents@uark.edu