Katie Wilson Powell, Director of Engagement and Student Communications
Katie Wilson Powell, Director of Engagement and Student Communications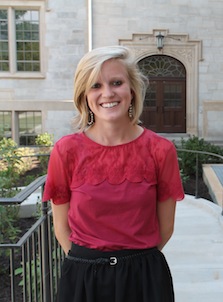 As director of engagement and student communications, Katie Wilson Powell helps honors students engage academically, socially and professionally during their time here at the U of A. She also serves as a core contributor to the communications team and helps to develop and improve service learning opportunities for all students.
Powell graduated from Millsaps College in 2013 with a B.A. in English. She earned her M.Ed. in higher education ('15) and completed a Ph.D. in English ('21) at the University of Arkansas. She served for two years as the director of civic engagement at Cornell College in Mt. Vernon, Iowa, where she gained valuable insight into civic education, the community organizing tradition and growing corn. While pursuing her master's degree Powell was a graduate assistant for programming with the Honors College, and she is thrilled to be back!
In her spare time Powell enjoys knitting, running, and reading, especially her favorite book, Anne of Green Gables.