Rebecca Francis, Graduate Assistant for Recruitment
Rebecca Francis, Graduate Assistant for Recruitment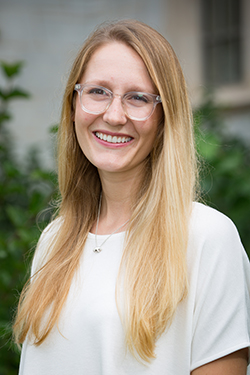 Rebecca Francis is new this year to the recruitment team, serving as a graduate assistant while completing her masters in accountancy. Originally from Overland Park, Kansas, she completed her undergraduate honors degree in accounting at the U of A last May, graduating magna cum laude. As an undergraduate, Rebecca was involved in the theatre department, starring in the mainstage musical Spring Awakening in 2014.
She studied abroad for a semester in Italy with support from an Honors College study abroad grant, then traveled to Cape Town, South Africa to conduct research in conjunction with the South African Education and Environment Project. This research became her honors thesis and instilled a strong will to serve others in whatever capacity presented to her.
In her spare time, Rebecca enjoys watching movies, cooking her own meals, traveling and reading.