Roxana Zamora Castellanos
Roxana Zamora Castellanos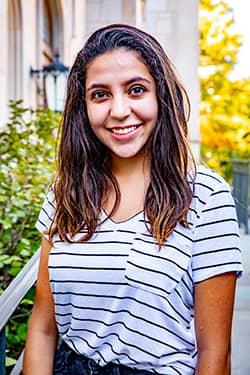 As the graduate assistant for pogramming at the Honors College, Roxana Zamora assists with a variety of programming, recruitment, and public relations activities for Honors College Diversity, Equity, and Inclusion Taskforce. She makes sure freshmen students get connected with the community, each other and specially with the Honors College. Her office is located in Hotz Honors Hall, where she is able to interact with honors freshmen and Hotz Resident Assistants.
Roxana graduated from the University of Arkansas in 2021, where she obtained a B.A. in finance with a minor in management. She was part of various leadership programs and clubs. When she is not working or studying, she enjoys listening to music and watching TV shows, especially The Walking Dead.
She is currently pursuing a master's of science in finance from the Sam M. Walton College of Business at the University of Arkansas.