Terrance L. Boyd, Director of Recruitment and the Path Program
Terrance L. Boyd, Director of Recruitment and the Path Program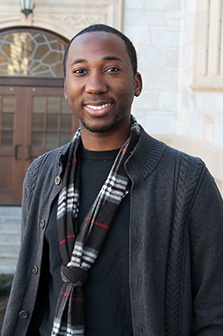 In his role as Director of Recruitment and the Path Program Terrance L. Boyd helps prospective students and their families navigate the application process for Honors College admission, fellowships and scholarships. He manages the annual recruitment travel schedule and assists with planning events such as the annual Honors College Convocation and Fellowship Weekend. Boyd also represents the Honors College at presentations ranging from one-on-one meetings to regional and national conferences. He is charged with developing partnerships with key stakeholders, including academic college and admissions recruiters, AP high school teachers and college counselors.
Boyd helped to develop the Honors College Path Program and leads this initiative, which recruits and supports exceptional students from underrepresented populations. He oversees monthly group meetings that focus on academic and personal development and organizes semester retreats. He also manages the peer mentoring program and serves as an individual mentor and resource for current Path students. Boyd also takes an active role in fundraising and applying for grants to support Path students.
Originally from Humphrey, Ark., Boyd was an honors student in the Sam M. Walton College of Business. He earned a B.S. degree in business administration/retail, cum laude in 2013 and completed his M.S. in operations management in 2014. His interest in the Honors College stemmed from his study abroad trip to Madrid, Spain in 2011– the first time he had flown on a plane. He also studied abroad in Nampula, Mozambique in the summer of 2012. During his time as an undergraduate, Boyd held internships at the Arkansas Alumni Association as a membership and marketing intern, and as project coordinator at the ALPFA Institute. His experience at the Honors College allowed him to expand his horizons, and Boyd hopes to open up similar opportunities for prospective students. In his free time, he likes to hang out with friends and eat sushi, preferably the Tyson Roll and the Kobe roll.