Discover Northwest Arkansas
Discover Northwest Arkansas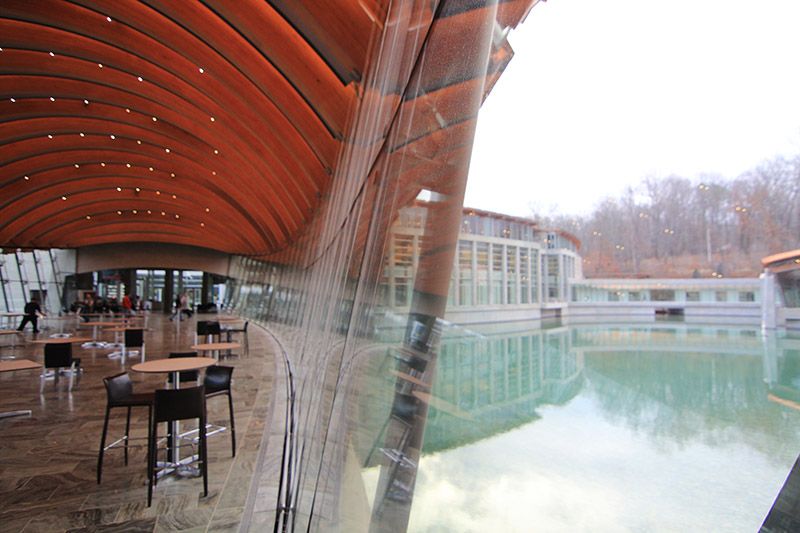 Eleven, the restaurant at Crystal Bridges Museum of American Art. Photo by Timothy Hursley courtesy of Crystal Bridges Museum of American Art.
We'll be accomplishing a lot in our workshops, but there will be some great opportunities for rest and relaxation, as well:
Crystal Bridges Museum of American Art is a must-see! Heralded by the New York Times as "the first major institution dedicated to American artists in 50 years . . . [one that] seeks to bring high art to middle America," Crystal Bridges also offers miles of beautiful hike and bike trails. For more information and directions, visit Crystal Bridges' website.
Want to take in a Broadway show or dance performance while you're in town? Check out the offerings at the Walton Arts Center.
Fayetteville is known for great places to eat.Many of them are within walking distance of campus, along Dickson Street. Search for restaurants by cuisine and location.
The City of Fayetteville has also invested considerable energy into developing a network of hiking and biking trails where you can work off all of those wonderful meals. The Frisco Trail passes through the heart of downtown Fayetteville and is easily accessible from campus via the new Oak Ridge Trail.
And of course, you won't want to miss the Fayetteville Farmers' Market. The wealth of summer's gardens will be available in late July, along with local crafts and beautiful fresh flowers.Located at Fayetteville's downtown square, less than a mile and a half from campus, the farmers' market meets Tuesday and Thursday from 7 a.m. to 1 p.m. and Saturday from 7 a.m. to 2 p.m. On any given Saturday you may find jug bands, cloggers, belly dancers and other performers.