Conference/Workshop Travel Grant
Conference/Workshop Travel Grant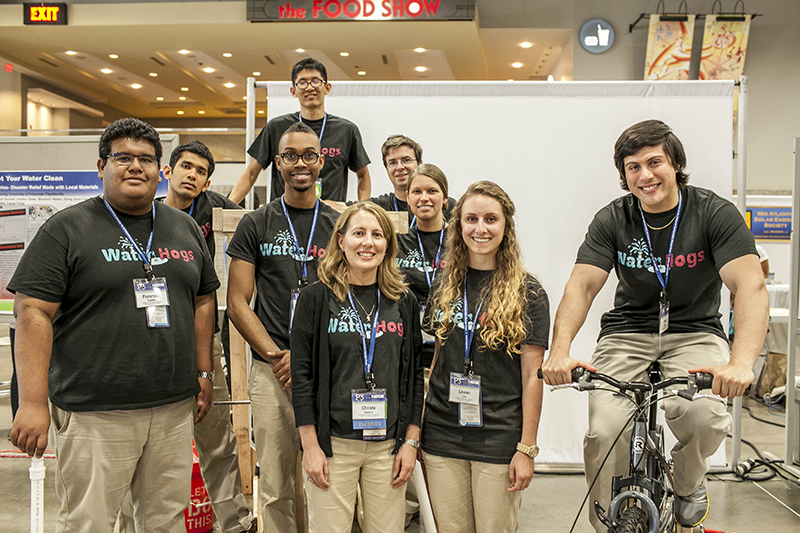 You've been invited to present your research at a conference in New York City but your no-frills, mac-and-cheese budget won't cover the airfare, much less the conference registration fee.
We can help! The Honors College competitively awards Conference/Workshop Research Travel grants to honors students. You can request travel funds to:
Present a paper, serve on a panel, present a poster or make another type of official presentation at a conference, workshop or symposium
Participate in an interactive workshop or symposium related to your research
You must be an honors student in good standing with the honors program in the college or school of major, including the minimum 3.50 cumulative GPA (3.330 minimum for architecture students after their 5th semester). This includes maintaining the minimum GPA at time of application, award, and departure.
You must be an active Honors College member and an undergraduate at time of application and travel.
You must have a minimum of 6 completed honors credit hours taken at the University of Arkansas prior to application. (Note: Some exceptions may be made for transfer students with more than 60 hours from their transfer institution. Contact Dr. Jennie Popp at jhpopp@uark.edu to discuss.)
You must be enrolled as a regular full-time student in a course of study during the academic year.

If you are presenting your work at a conference, your presentation must already be accepted by the conference before you apply for a Conference/Workshop Travel Grant.

Students found responsible for academic integrity violations or violations of the Code of Student Life are not eligible to apply for or receive Honors College grants for at least one year after being sanctioned.
Students may receive one Conference/Workshop Travel Grant per academic year.
Reviewers will consider:
Quality of your proposal
Strength of your mentor letter of support
Your existing scholarships, financial aid, and other outside source funding that can be applied to the travel
Academic relevance to your research, educational and professional goals
Your progress in and commitment to your honors program of study
Travel cost
Amount of funding requested
Availability of funds
Impact of travel – must be significantly higher than any previously funded travel
Number of previous Honors College grants awarded - preference may be given to students not funded before
Amounts vary depending on the type of travel, the relevance and impact to your professional and research goals, and the quality of your proposal.
These grants are highly competitive.
You are expected to leverage all of your other sources of funding, such as SURF grant travel funds, scholarships, and fellowship funds and any college or departmental funds, if available.
You must take advantage of student discounts for conferences or workshops.
You cannot use Honors College funds for rental cars. You can use your own car or public transportation (taxi, train, plane, bus, etc.).
Typical funding:
Domestic travel: up to $1,000
International travel: up to $1,500
Please note: If you receive this grant, you will receive the funds after you return from the conference/workshop and you've submitted the Conference/Workshop Grant Documentation. However, you may receive reimbursements for large expenses, such as airfare or conference registration, before travel, up to 75% of the grant.
The Honors College does not fund student travel to countries or specific destinations within a country listed with a Level 3 or 4 Travel Advisory by the U.S. State Department.
Student Application Deadlines
Conference/Workshop Travel Grant proposals are due at least one month before your date of departure. You are welcome to apply earlier! Please note that review can take up to two weeks, so keep that in mind when deciding when to apply.
*Some exceptions may apply here –– for example, if your paper is accepted after the deadline. Contact Chelsea Hodge for more information.
Questions? Contact Dr. Jennie Popp at jhpopp@uark.edu or 479-575-7381.
Required Application Materials
Prepare the following items, which must be submitted using the Conference/Workshop Travel Grant application form at least one month prior to your departure date. The Honors College now uses a grant submission system called InfoReady for the Conference Grant. Once you click the link, you will be prompted to log-in using your UARK credentials.
Complete the online Conference/Workshop Travel Grant application in InfoReady, the new grant system used by the Honors College. You will be prompted to log-in using your UARK credentials.
Questions? Contact Dr. Jennie Popp at jhpopp@uark.edu or 479-575-7381.
Congratulations! The Honors College Conference/Workshop Travel Grant will help you conduct your research and share your findings with other professionals in your field.
What's next? Before you travel you must:
After you return from travel, you must submit the Conference/Workshop Travel Grant Documentation in order to receive your funding. Follow these steps:
Log on to InfoReady using your UARK credentials.
Click on "Applications" at the top of the page.
Select your Conference/Workshop Travel Grant application.
Select "Progress Reports" on the right side of the page.
Upload your blog post and photo. Click on the "Documentation" tab. Answer the two questions confirming you've uploaded your materials. Click "Finalize." This notifies the Honors College that you have submitted your documentation.
Once your documentation is reviewed and approved, funds will be posted to your UAConnect account when we receive your documentation. You may receive up to 75% of your funding in advance of your travel if you have a large up-front expense (such as a flight). To be reimbursed for a large up-front expense, you must email the receipt for your purchase to Dr. Jennie Popp at jhpopp@uark.edu.