Honors College Research Grants
Honors College Research Grants

The Honors College Research Grant is designed to support your scholastic, creative, and experiential honors research projects. You can use a Research Grant stipend to purchase research materials, fund travel required by your research, compensate volunteers for your study, or as financial support for the time you spend doing research.
If you need to travel a great deal to complete your grant-funded research, consider applying for the Short Term Research Travel Grant, Extended Research Travel Grant, or the International Internship Grant!
You must be an honors student in good standing with the honors program in the college or school of major, including the 3.50 cumulative GPA (3.330 minimum for architecture students after their 5th semester). This includes having the minimum GPA at time of application, award, and departure.
You must be an active Honors College member.
You must have a minimum of 6 completed honors credit hours taken at the University of Arkansas prior to application (Note: Some exceptions may be made for transfer students with more than 60 hours from their transfer institution. Contact Dr. Jennie Popp at jhpopp@uark.edu to discuss.)
You must be enrolled as a regular full-time student during the grant period. Online courses do not count toward full-time status.
Students found responsible for academic integrity violations or violations of the Code of Student Life are not eligible to apply for or receive Honors College grants for at least one year after being sanctioned.
Student stipend: These stipends are $1,250 for a one-semester project and $2,500 for a multiple-semester project and are given to support research begun and completed during the grant period. Awards will vary depending on the number of semesters in the grant period.
Mentor Stipend: Faculty mentors receive $1,000 in a mentor account for guiding the student through the research process and for materials (research equipment, books, copying, etc.)
Cost of Attendance Limit: If your current financial aid/scholarship package has already met your cost of attendance, you will not be able to receive research grant funds. An exception/adjustment may be possible for materials and travel funds if needed and detailed in your proposal budget.
If you have questions about this policy, please contact Chelsea Hodge at cew003@uark.edu.
Student Application Deadlines
Fall 2018
For funding in Spring 2019, Summer 2019, and/or Fall 2019.
Honors students wanting to be considered for an Honors College Research Grant in the fall must submit an application for a SURF grant, which will be due in October. If the proposal is not awarded a SURF grant, it will automatically be considered for an Honors College Research Grant. Please visit the SURF Grant page for more details.
Spring 2019
For funding in Summer 2019, Fall 2019, and/or Spring 2020.
Students must submit their application by March 15 at 4:00 p.m.
Faculty must submit letters of recommendation by March 20.
Questions? Contact Chelsea Hodge at cew003@uark.edu or (479) 575-3127.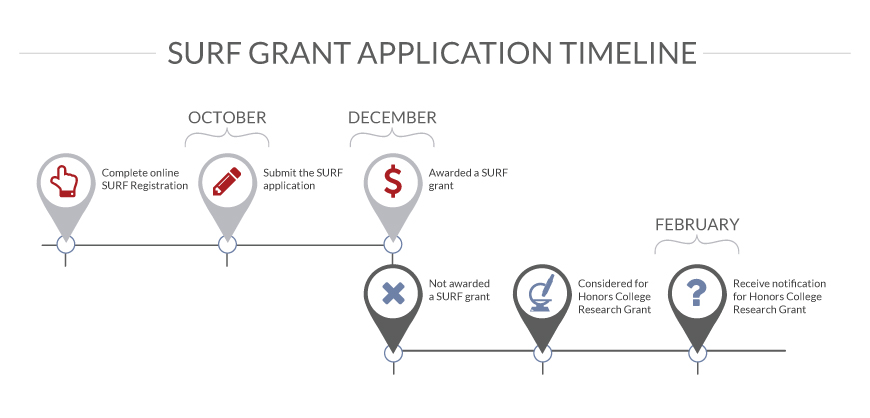 In the fall:
All eligible students must apply for a SURF Grant. Honors College applicants not awarded SURF grants will automatically be considered for an Honors College Research Grant.
In the spring:
Prepare the Required Application Materials detailed below, and fill out the online Research Grant Application form.
Important Tip for international students: You are not eligible for SURF funding, but you may apply for an Honors College Research Grant in the fall. Assemble the same materials and meet the same deadline as SURF applicants. Your application will automatically be considered for an Honors College Research Grant. You need only submit one copy of the packet.
Required Application Materials
Prepare the following items, which must be submitted using the Research Grant application form by the appropriate deadline.
Fill out the online Research Grant Application form.
Questions? Contact Chelsea Hodge at cew003@uark.edu or (479) 575-3127.
Congratulations — you got the grant! Here are the important next steps:
Step 1
RSVP:
You must complete and submit the online grant acceptance form within 2 weeks of being notified of your award.
Step 2
Await Approval:
The Honors College will send your project to the Office of Research Compliance to confirm that all federal, state and university policies have been met.
Step 3
Get Your Grant Funds:
Funds will be deposited in your UAConnect account on a monthly basis, beginning with the first month of your research grant period - provided you and your mentor have RSVP'd and your project has been approved.*
Step 5
Share your Experience:
At the end of each semester, update us on your progress with a blog post and photo. You must submit a report upon completion of the grant. For more info visit the Research Grant Documentation page.
Step 6
Give Credit for your Grant:
If you present grant-supported research at a conference or meeting, or publish your own work, you must credit your Honors College grant.
*Important UAConnect tips:
If you owe the university money, they will use your grant funds to cover those costs. So pay those parking tickets and any other outstanding fees before the start of your grant period!
Want your money faster? Set up direct deposit through UAConnect: UAConnect > Student Center > Finances > Direct Deposit Setup.
Have your banking information handy before you start.
Congratulations! The Honors College Research Grant will help you get the work done –– and it's a major plus for your resume.
What's next?
Follow the timeline above, step by step, and read, and then reread, all of the information below:
To accept your grant, please complete and submit the Research Grant RSVP and Deferral Request form.
The form will guide you through the process. You need to complete this form within 2 weeks of being notified of your award, so that we will hold your funds for you. Your mentor will receive a separate email notification about the mentor acceptance form that he/she needs to complete. Mentors may access their form and important information on the mentor grant information page.