Research Poster Competition
Research Poster Competition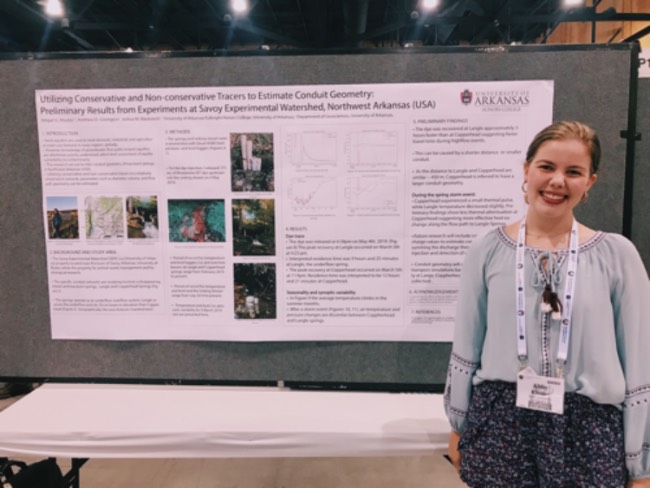 Enter your research in the Research Poster Competition!
Write an abstract > present your research poster > win cash!
Judges will evaluate the abstract submissions and select three finalists in each category to move on to the poster round. Each finalist will create a research poster to present to judges on April 2nd. Every finalist is guaranteed a cash prize! In each category, we will award a $100 prize for first place, $75 prize for second place, and $50 prize for third place.
Abstracts are due March 1st by 11:59pm.
Rules
The competition is open to all undergraduate students engaged in research, including honors and non-honors students.
By submitting an abstract, you commit to creating and presenting a research poster if you are selected as a finalist.
Cash prizes will only be given to student finalists who create and present a research poster.
Abstracts can also be submitted by teams of two students. If you worked with a partner on your project, you can collectively submit an abstract. If your abstract is chosen for the poster round, you and your partner will split the prize money. Only teams of two can submit a group project.
ALL research is welcome, including students taking part in creative and experiential projects.
Abstract Guidelines
Carefully review the guidelines for your research area. Be sure to consult your mentor as well.
Abstracts should contain 250 (minimum) to 500 (maximum) words.
State why you wanted to produce your piece or work. Explain how it will expand the field in which you are working.
Include information about the process involved in your work as well as the end project.
You might include why you chose a certain approach or the kind of reaction you wanted to illicit in the audience.
Include a statement that is an intepretation of your work.
Avoid specialized terminology. Explain your project in terms that audiences outside of your medium will understand.
Provide brief description of significance of the research question or problem.
Include a background statement if it is needed to understand the abstract. The background should be no more than one or two sentences.
Describe what data, methodology, or innovative techniques you used in your study.
Clearly describe the key preliminary/final results of the research.
Explain how these results could be used to address a real world problem or contribute to future research in your discipline.
Avoid scientific jargon, and explain research in terms that non-specialist audiences will understand.
Guidelines adapted from University of Southern Indiana.
Research Categories
You will submit your abstract in one of nine categories. These categories cover all UA departments. Look through the categories below to find the area of your research. Be sure to find the correct category before submitting; don't make an assumption about your category based on your academic college. For instance, agricultural business, housed in Bumpers College, is in the business category, not the agriculture category.
Remember: your research might be in a department other than your major (e.g. a biology major who does research in plant science).
Ready to submit your abstract?
Complete the Research Competition Abstract Submission Form.
The form must be submitted by 11:59pm on March 1st.
Questions? Contact Chelsea Hodge at cew003@uark.edu or (479)575-3127.
Submitting Your Poster
The poster competition will take place on April 2nd in the Union Ballroom. Time TBA based on participant availability.
The Honors College will print posters for free for all finalists – including honors and non-honors students - if you submit it via the online form by March 30th at 5:00pm.
If you elect to print your poster elsewhere at your own expense, you must drop off the poster at the Honors College (GEAR 127) by April 1st at 12:00pm.
We will transfer all printed posters, both those printed by the Honors College and dropped off, to the Union Ballroom for you.
Guidelines for Your Poster
Your poster should follow the general guidelines of your field. Talk to your mentor for assistance.
Visit Honors College Poster Printing for downloadable templates and helpful tips on formatting.
Maximum poster size allowed is 36" x 48"
If the Honors College prints your poster, our poster printer uses 36" rolls. Therefore posters that are not sized to 36" for either height or width will require additional cutting post printing by the student.
Your poster should include your name, your mentor's name, and your project title. If you are an honors student, you should also include the Honors College logo (available on the Credit Your Grant page). Check with your mentor to see if any other names/credits should be included.
Questions? Please contact Chelsea Hodge at cew003@uark.edu or 479-575-3127.