Meet the Dean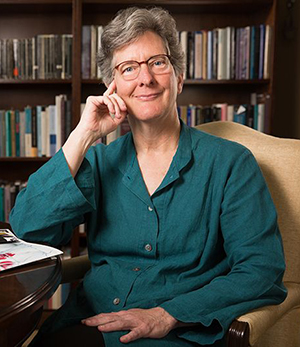 Lynda L. Coon
Here at the University of Arkansas Honors College, our goal is to create transformative experiences that prepare our students to excel professionally, flourish personally, and lead globally. As the flagship university, we are proud to serve the State of Arkansas by training the future leaders of Arkansas, the nation, and beyond.
The Honors College was created in 2002, when the University of Arkansas received a $300 million gift from the Walton Family Charitable Support Foundation. More than one-third of this landmark gift was dedicated to endow Honors College Fellowships and Honors College Academy Scholarships for exceptionally talented students, and to endow special funds to support study abroad and undergraduate research opportunities.

While still relatively young as an institution, we have been ranked 17th in overall excellence in a recent survey of 50 top honors programs at public universities, and tied for 2nd in excellence impact on our university. We are happy to see the word getting out on the opportunities that we offer, but we're most proud of the numbers related to the honors experience:
Study Abroad
50% of honors students have studied abroad by the time they graduate – that's three times the national average of 14%.
Research
100% of our students have engaged in original research or creative work by the time they graduate. Our students don't just read the book, they work with people who are writing it, in all fields of study.
Faculty Engagement
More than 700 of the UA's most research-active faculty members are teaching honors classes and mentoring honors student research – and that number continues to grow. The 5:1 student to faculty ratio ensures access to top professors on campus.
Interdisciplinary Courses
To date, the Honors College has provided more than $500,000 in seed funding for 30 problem-focused, interdisciplinary courses on topics ranging from nanotechnology to childhood obesity to music and mind.
Student and Faculty Support
Thanks to the Walton gift that created the college, we award up to 90 fellowships each year, each providing $70,000 over the course of four years. Each year we award more than $1,000,000 in research grants and study abroad grants to students, and provide stipends to faculty who direct research grant projects.
Student Success
The Honors College is nationally recognized for the high caliber of students it admits and graduates, consistently producing Fulbright, National Science Foundation, Truman, Marshall, Gates Cambridge and Goldwater Scholars, among others, over the past 10 years.
New initiatives
Currently we are exploring new initiatives in service learning, both abroad and right here at home; international research opportunities; and new ideas for honors courses. These are exciting time to be involved in the Honors College! Welcome to our site; please explore all that we have to offer. And if you don't find what you are looking for here, please contact us at 479-575-7678 or honors@uark.edu.