On Display
redesigning tolkien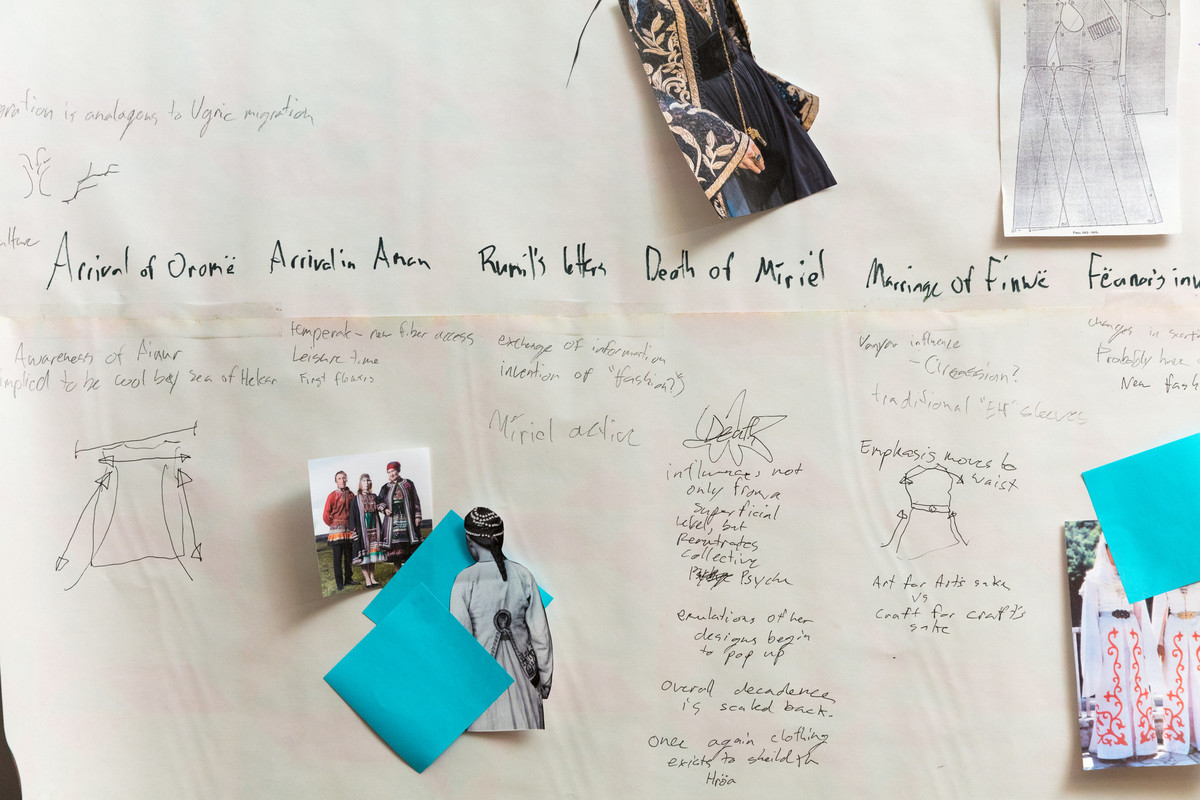 Grace Costello started sewing at the age of seven on their grandmother's black Fleetwood sewing machine and got their very own Singer at the age of 10. Several years of intricate Halloween costumes later, they realized that their love of costuming was more than just a hobby – it was career-worthy. At the U of A, Costello combined their love for design with their interest in the world of J.R.R. Tolkien to create the two pieces on display in Gearhart Hall as part of their honors thesis project.
These pieces reimagine Elven clothing standards in the First Age of Tolkien's Legendarium, thousands of years before the events of The Lord of the Rings take place. When creating the designs, Costello was careful to avoid the pre-Raphaelite, Eurocentric bias present in most mainstream visual representations of Middle Earth, opting instead to mine the migration and cultural evolution of the Elvish race to create their patterns. Costello was influenced by Finnish and Uralic geography and fashion history but emphasizes that "you can't just lock in" to a certain fashion history or design inspiration for fantasy worlds. "Tolkien's work comprises this huge, expansive world. There are so many ways you can interpret it."
The two ensembles on display were created for a male metalsmith and a female scholar. The cuts of the fabric – T-shaped tunics and tighter-fitting garments that are sewn, rather than draped – are vestiges of the cold climate in Cuiviénen, the Elves' first home, while the silk fabrics are representative of the climate in Valinor, where the metalsmith and scholar lived during the First Age.
Grace

was an Honors College Fellow at the University of Arkansas, where they graduated in 2018 with a degree in apparel merchandising and product development from the Dale Bumpers College of Agricultural, Food and Life Sciences . Grace

works under the name Aubrey Costello; for more information about their work, or to get in touch about collaborations or commissions, visit them at www.aubreycostello.com.
Place in Mind
An Honors College course that began with silent observation, counting and research in Special Collections has yielded an eye-popping idea for the courtyard at Gearhart Hall: a 12-foot-tall, bright orange geometric shape perched on pavers arranged in a traditional Arkansas quilt pattern. The sculpture proposal grew out of a two-week Honors College Signature Seminar, Place in Mind, led by Carl Smith, an associate professor of landscape architecture in the Fay Jones School of Art and Design, and Edmund Harriss, an artist and clinical assistant professor of mathematics in the J. William Fulbright College of Arts & Sciences. In the course, and throughout a subsequent semester of special topics studies, honors students majoring in engineering, art, biology, geology, architecture, and landscape architecture used drawing, games, poetry and mathematics to understand the existing qualities of the courtyard and speculate on what it might become in the future. They came up with something quite remarkable: the audacious sculpture, inspired by Harriss' research into fabricating curved geometric forms, or "curvahedra," and the pavers tiled in a quilt pattern, "Arkansas Crossroads," which grounds the project in a local motif.

Feasibility studies and fundraising are currently underway to realize the students' vision. In the meantime, come view the 250 curvahedra – paper miniatures of the proposed sculpture – on display in the second-floor study lounge. While you're there, look out the window for a preview of the tiling pattern in the courtyard.
Got work and want to share it?
Send us your poems, drawings, short stories, set designs, photos, prints, paintings or any other creative effort you have polished to perfection. All submissions will be considered for publication in a wide range of Honors College communications, including A+ Magazine, the Honors College blog and other social media. We're also looking for creative work to display in Gearhart Hall. For submission guidelines and link to online submission form read the Students: Got Art? blog post.