On Display
Work by Russell Cothren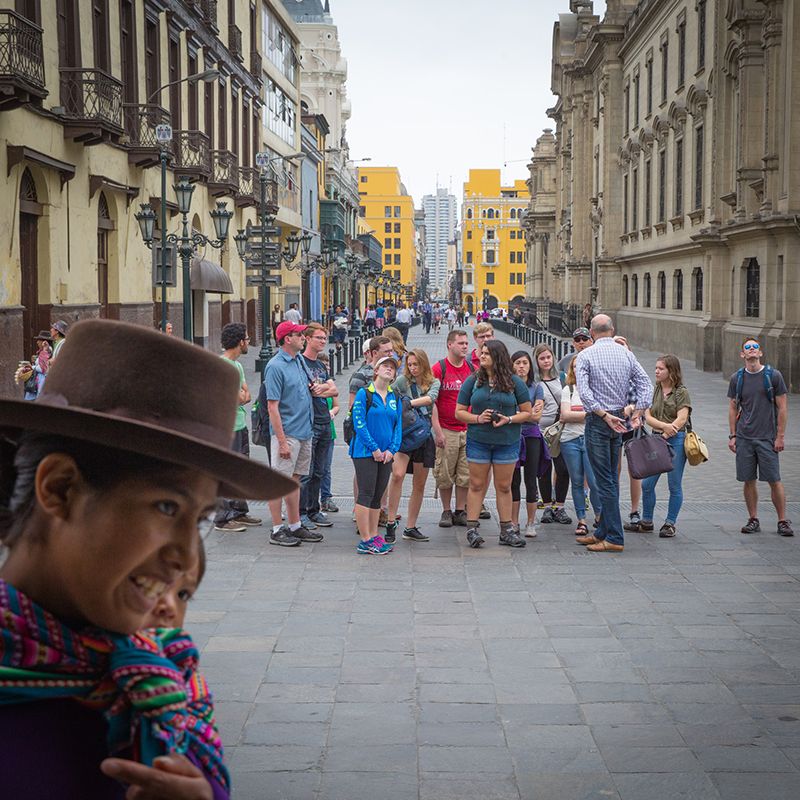 The January 2017 Honors Passport trek to points throughout Peru presented some challenges for U of A photographer Russell Cothren: scant sunlight in churches and crypts and a packed schedule conducted at a fast pace, not to mention the physical adjustment to altitudes above 14,000 feet.
"Just trying to stay ahead of a moving group and make use of what I had in front of me was hard at times," Cothren recalled. The key challenge presented by the Honors College course also provided the greatest reward: "You never really knew what you were going to step into, and just stepping into the unfamiliar was inspiring."
These photos shot on the fly invite close inspection. An impromptu class on a precipice overlooking Machu Picchu, a panorama of candy-colored Cusco and snapshots of street life in Lima are among the riches that Cothren culled from the 14,562 frames shot during the two-week intersession trip. His portfolio of photographs from Peru won a Special Merit Award for Excellence in Photography in the 2018 CASE District III Awards Competition, which "recognizes the very best in advancement across the Southeast."

The Honors College is organizing a second Honors Passport trip to Peru during the January 2020 intersession. For more information visit honorspassport.uark.edu.
Place in Mind
An Honors College course that began with silent observation, counting and research in Special Collections has yielded an eye-popping idea for the courtyard at Gearhart Hall: a 12-foot-tall, bright orange geometric shape perched on pavers arranged in a traditional Arkansas quilt pattern. The sculpture proposal grew out of a two-week Honors College Signature Seminar, Place in Mind, led by Carl Smith, an associate professor of landscape architecture in the Fay Jones School of Art and Design, and Edmund Harriss, an artist and clinical assistant professor of mathematics in the J. William Fulbright College of Arts & Sciences. In the course, and throughout a subsequent semester of special topics studies, honors students majoring in engineering, art, biology, geology, architecture, and landscape architecture used drawing, games, poetry and mathematics to understand the existing qualities of the courtyard and speculate on what it might become in the future. They came up with something quite remarkable: the audacious sculpture, inspired by Harriss' research into fabricating curved geometric forms, or "curvahedra," and the pavers tiled in a quilt pattern, "Arkansas Crossroads," which grounds the project in a local motif.

Feasibility studies and fundraising are currently underway to realize the students' vision. In the meantime, come view the 250 curvahedra – paper miniatures of the proposed sculpture – on display in the second-floor study lounge. While you're there, look out the window for a preview of the tiling pattern in the courtyard.
Got work and want to share it?
Send us your poems, drawings, short stories, set designs, photos, prints, paintings or any other creative effort you have polished to perfection. All submissions will be considered for publication in a wide range of Honors College communications, including A+ Magazine, the Honors College blog and other social media. We're also looking for creative work to display in Gearhart Hall. For submission guidelines and link to online submission form read the Students: Got Art? blog post.