On Display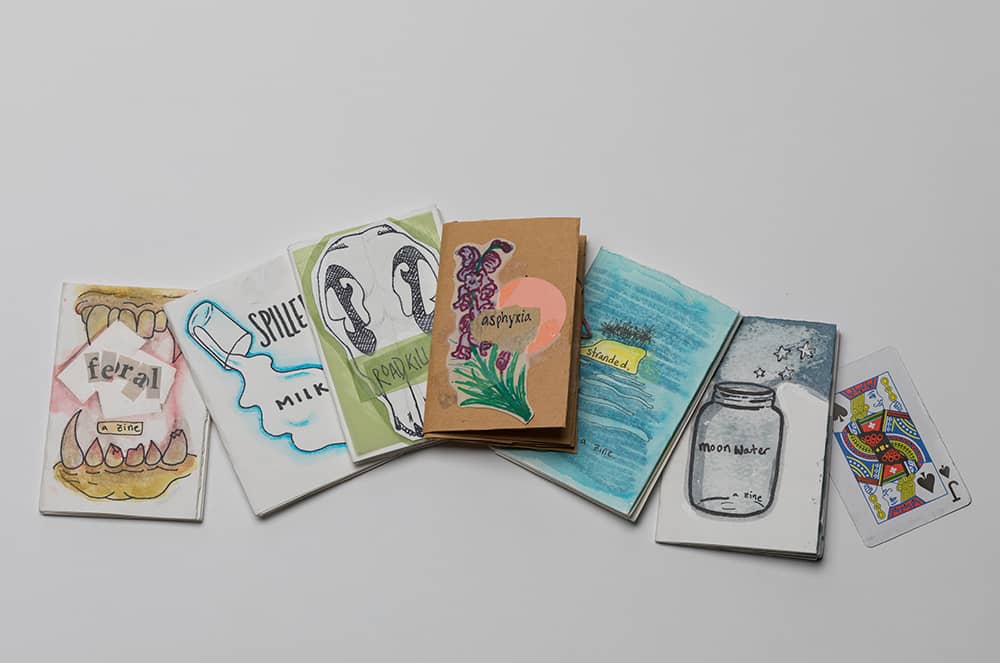 12 Zines
Work by Claire Hutchinson

Senior creative writing and classical studies major Claire Hutchinson, from Kansas City, made her first one-page zine during her freshman year. The experience stuck with her, and when she found herself in a creative slump in 2019, she decided to give herself a year-long challenge to create one every single month.
"It kept me creative at least once a month for the whole year," she said. "It was a really cool experience, and I had a lot of people interested in following. I made copies for them and gave them away every month."
To create the zines, Hutchinson borrowed an exercise from an early creative writing class. It involved making month-long lists of her favorite words and experiences in a notebook and then constructing a poem around them at the end of the month in order to reflect her mood or "overall vibe."
"Some zines are exclusively art based, and I've also seen zines that are exclusively poetry," she explained. "I didn't want the zines to be plain and I do like creating art. I felt like I could merge the two fairly well."
Got work and want to share it?
Send us your poems, drawings, short stories, set designs, photos, prints, paintings or any other creative effort you have polished to perfection. All submissions will be considered for publication in a wide range of Honors College communications, including A+ Magazine, the Honors College blog and other social media. We're also looking for creative work to display in Gearhart Hall. For submission guidelines and link to online submission form read the Students: Got Art? blog post.