Yvette Murphy-Erby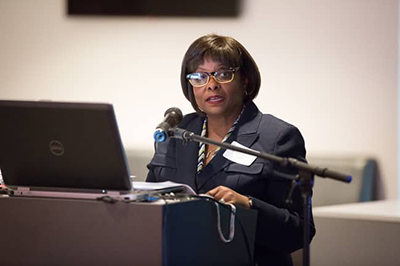 Yvette Murphy-Erby, vice-chancellor, Division for Diversity, Equity and Inclusion, and professor, social work, Fulbright College of Arts and Sciences.
Yvette Murphy-Erby is a long-time champion of the Honors College Path Program. She participated in the inaugural committee established to explore funding opportunities for Path and served as co-principal investigator on the $1 million "Path to Graduation" grant awarded to the University of Arkansas by the National Science Foundation.
She developed and for several years led a series of professional development modules focused on preparing Honors College faculty mentors for success in mentoring students, with a focus on historically underserved students. She also developed a series of modules designed to prepare students in the Path Program for mentoring success and delivers those lessons annually to each new group of incoming Path Scholars. She has mentored Honors College students in their efforts to incorporate a diversity, equity, and inclusion perspective in their thesis and research efforts. She has also supported Honors College staff in their efforts to weave diversity, equity and inclusion into every aspect of their work.