Ro DiBrezzo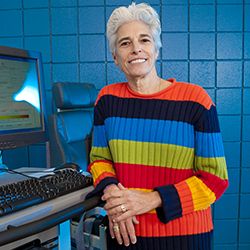 Vice Provost for Faculty Development and Enhancement
and Professor of Kinesiology
Ph.D., Texas Woman's University, Biomechanics
M.S., Indiana University, Adapted Physical Education
B.S., Brooklyn College, Health and Physical Education
In her own words:
Everyday I try to ... make somebody smile, and I try to be outside for at least part of the day – that's really therapeutic for me.
Something people don't know about me is ... how much of a traditionalist I am. There's a lot of the Italian tradition that I keep close to me – for example, there will be no bird at Thanksgiving – I'll be eating baked ziti.

The one thing you'll always find in my fridge ... Are we being healthy or unhealthy? I always have a bottle of wine, some yogurt and fresh fruit.

My favorite thing about working with honors students is ... they make me better! They're curious, and most of them are pretty disciplined – they get that you can't just do something once. In my discipline you have to do things a couple of times to confirm results.
About her research:
In her 38 years of teaching and conducting research in the field of kinesiology, Ro DiBrezzo has focused on the biomechanics, fitness and training of "special populations" – initially, women. "When I began my career, there was an enormous amount of information on men, and that data was just superimposed on women," she said. The differences in training for men and women go beyond physiology, DiBrezzo said. "Men play at sports; for many women, exercise is just one more thing they have to do. We have to teach people the sheer joy of moving," she said.
More recently DiBrezzo has focused on the positive benefits of exercise for seniors, which extends far beyond the expected loss of a few pounds and lowering cholesterol by a few points. After 12 to 18 weeks many older adults participating in health and fitness programs she has developed are able to cut back on their medications, eliminating prescriptions for insulin, high blood pressure and anti-depressants. In addition to boosting fitness, DiBrezzo and her colleague Barbara Shadden, a professor of communication disorders, have established that sustained exercise improves seniors' performance on a battery of cognitive tests and boosts their self-esteem.
"We're working with women aged 60, 70, 80 – by and large, they didn't play sports when they were kids," DiBrezzo said. "When they're working out, their whole face lights up. They have such a sense of confidence and control that they didn't have before; it's so much fun to watch!" Ultimately, exercise – particularly resistive exercise with weights or bands that build strength – enables seniors to live independently, longer. "Many older people can't cook for themselves because they don't have the strength to carry a bag of groceries or open a can. Resistive exercises are key to prolonging independence and mobility," she said.
DiBrezzo is currently working with several honors students on topics ranging from the effect of high velocity exercise on older adults' balance and strength to an investigation of the physiological effects of stress in the workplace. "There's so much to know about how and why we get stressed, how people cope, and the impact of stress – it ties in with cardiovascular disease, certain cancers, and has long-term effects on cognitive function," she said.