Forum: Entrepreneurs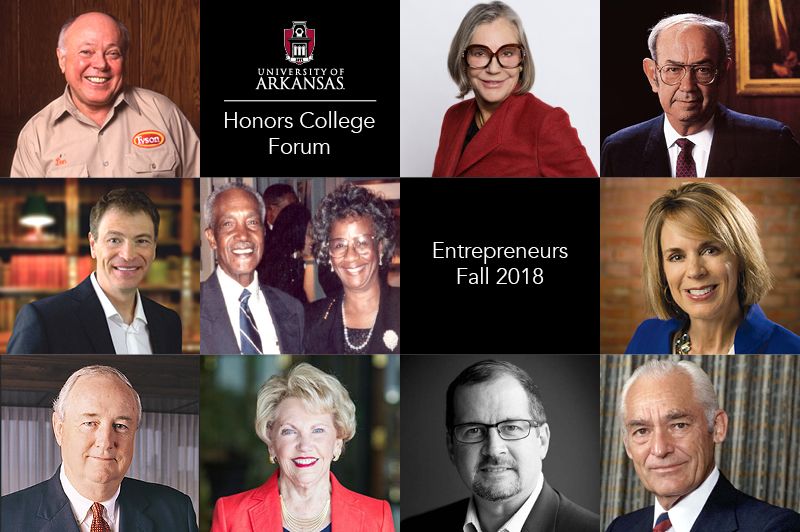 FORUM: ENTREPRENEURS/HNRC 300VH
TUESDAYS, 5-6:15 p.m., FALL 2018
BREWER ENTREPRENEURSHIP HUB (123 W. MOUNTAIN ST.)
Students: here is the link to the Forum: Entrepreneurs application form. The deadline to apply is midnight Wednesday, March 28, 2018.
Peter Drucker once said, "The best way to predict the future is to create it." This sort of forward-thinking mindset is what you will see in this course: entrepreneurs in Arkansas and the heartland who have created the future.
You can too.
However, you have got to be able to learn from failure; better yet, don't even consider it failure. Thomas Edison famously declared, "I have not failed. I've just found 10,000 ways that won't work." Entrepreneurs take ideas, turn them into businesses, change both their ideas and their businesses and continue to adjust as they continue on their journey. Sam Walton is known for saying, "Capital isn't scarce, vision is." To create the future, adapt your ideas and learn, you need vision.
Entrepreneurs are curious, passionate, visionary and willing to take risks; they are networkers and team builders, they recognize opportunities, have a bias for action, can deal with ambiguity and uncertainty, and demonstrate persistence.
Arkansas has an amazingly successful list of entrepreneurs, including those who have built companies that are headquartered in Arkansas and some who have established businesses elsewhere. One goal of this course is for students to develop a rich understanding of these entrepreneurs so that they can apply the key lessons in their lives and businesses. This forum also intends to demonstrate to students how important networking is in entrepreneurship and help them improve their own networking skills.
We will be hosting several extremely successful entrepreneurs over the course of the semester, and students in this course will have the opportunity to dine and network with them.
What's in it for you:
Practice your networking skills with entrepreneurs from across the region
Sit down to dinner with some of the state's top movers and shakers
Learn lessons first-hand from these same entrepreneurs as they give talks based on their business experience
Study entrepreneurs, their characteristics, their businesses, their journeys, and their successes and failures
What's expected of you:
A willingness to learn and develop your own entrepreneurial skills
Active involvement in networking with guest speakers
Active participation in discussions and other course-related activities
About Matt Waller:
Matt Waller has his eye on epic goals as dean of the University of Arkansas' Sam M. Walton College of Business, which continues to be a business leader in the state. Prior to becoming dean in 2016, Waller served as interim dean, as Walton's first associate dean for executive education and as the chair of the college's Department of Supply Chain Management. He also held the Garrison Endowed Chair in Supply Chain Management.
In his time in the dean's office, Waller has started many new initiatives, reached out for interdisciplinary programs across the university, and laid plans to push the Walton College to even higher accomplishments and accolades. For example, in 2016 the college opened the McMillon Family Retail Innovation and Technology Lab with a gift from Walmart Chief Executive Officer and Walton College alumnus Doug McMillon and his wife, Shelley.
Waller received a B.S.B.A. summa cum laude from the University of Missouri, and an M.S. and Ph.D. from Pennsylvania State University. His business experience includes being partner and co-founder of Bentonville Associates Ventures in 1996-2002 and chief strategy officer and co-founder of Mecari Technologies in 1998-2002.
He is co-inventor of U.S. Patent No. 6,341,269 B1 for a System, Method and Article of Manufacture to Optimize Inventory and Merchandising Shelf Space Utilization. He is co-editor-in-chief of Journal of Business Logistics, the leading academic journal in the discipline. His opinion pieces have appeared in Wall Street Journal Asia and Financial Times and he has been an SEC Academic Leadership Fellow. His research and teaching focus is on retail supply chain management. A paper he co-authored on total quality management is one of the most cited in 40 years in the journal Decision Sciences. His paper regarding vendor-managed inventory systems is third place for the most citations in the Journal of Business Logistics.
Waller is coauthor of The Definitive Guide to Inventory Management: Principles and Strategies for the Efficient Flow of Inventory across the Supply Chain published by Pearson Education.