Forums
ABOUT THE HONORS COLLEGE FORUM/HNRC 300VH
Our Honors College Forum series brings star faculty and top administrators together with honors students to discuss trending topics in a variety of subjects, from politics to local business to leading a museum. Each course is one credit hour, which makes it easy to fit into a busy honors schedule, and it's well worth the time: the opportunities for networking and community involvement offered by these courses are second-to-none. Please consult individual course pages for more information.
Interested? The deadline to apply to our Spring 2020 Forum courses is 11:59 p.m. Friday, November 1, 2019.
Class will meet Mondays, 5-6:15 p.m., Spring 2020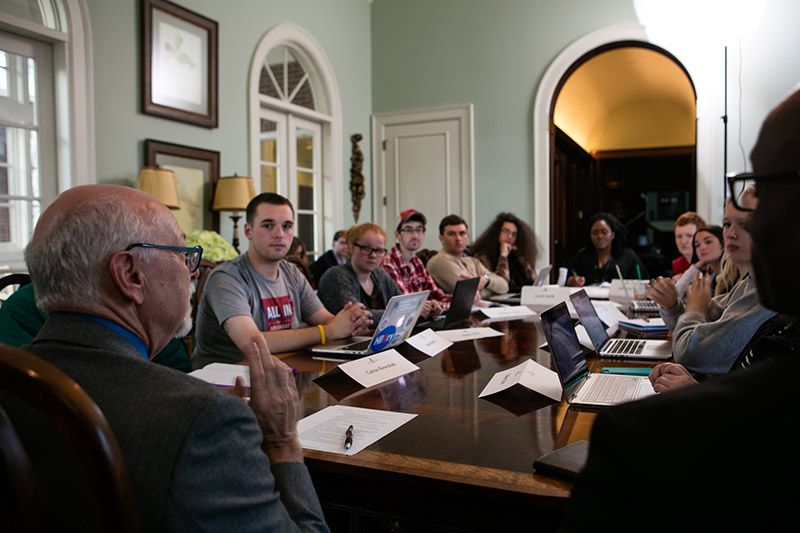 Are you ready to be an executive? Flagship U! is aimed at students interested in leadership – whether in academe, a Fortune 500 company, public service or another endeavor. Flagship U! will offer an unparalleled opportunity for 14 undergraduate honors students to learn about leadership from Chancellor Joseph Steinmetz, who has enjoyed a long and distinguished career in academic leadership. To stimulate and focus discussion, each of the students will be randomly assigned a role of an executive committee member for the duration of the class. The class will meet in Fowler House, Chancellor Steinmetz' home.
Once a week these honors students will convene around Chancellor Steinmetz' dining room table to discuss the most critical topics facing flagship campuses today. Each session of this one-hour course will be divided into two parts: "Academia in Review" and "Academic Expert." The first half involves discussion of current issues and news from flagship campuses; the second half spotlights discussion with administrative and faculty experts on key issues, from campus carry to state funding and affordability.
Joe Steinmetz became the sixth chancellor of the University of Arkansas on January 1, 2016. Prior to this appointment, he was Ohio State's chief academic officer. As executive vice president and provost, he oversaw the administration, coordination, and development of all academic functions of the university. Before Ohio State, Dr. Steinmetz was dean of the College of Liberal Arts and Sciences at the University of Kansas, where he was also a university distinguished professor. Before Kansas, Dr. Steinmetz spent 19 years at Indiana University, Bloomington where he served as Chair of the Department of Psychology, Executive Associate Dean of Arts and Sciences and a Distinguished Professor of Psychological and Brain Science.
Class will meet Tuesdays, 5-6:15 p.m., Spring 2020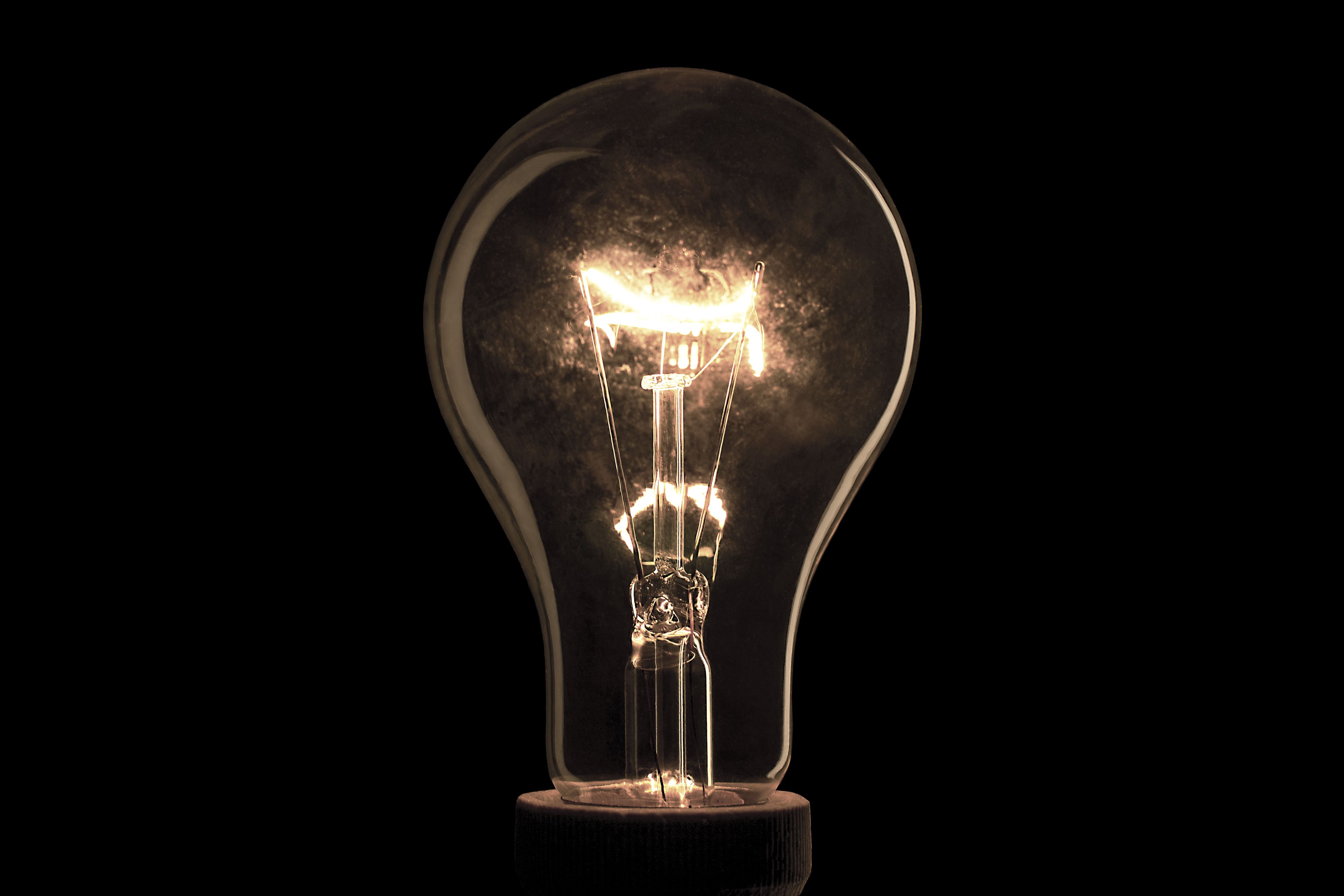 Join us this spring as we meet with some of the very best innovators from a variety of fields. Learn how they innovate in art; science, technology, engineering and mathematics (STEM); architecture; and business; as well as for the social good. We will also discuss the need to embrace failure and the many ways in which the successful guest speakers have themselves experienced failure many times. And we will examine how this can be applied to and integrated into your future. This multi-college interdisciplinary class will introduce students to the key elements of innovation. Students will have the opportunity to network with speakers and enjoy a light dinner after class. This is a one-credit-hour course, but students interested in 3 credits can contact the instructor for an expanded plan.
Karl Schubert is a research professor in the College of Engineering at the University of Arkansas. His academic research focuses on providing innovation programs for STEM education; multi-college, interdisciplinary data science curriculum; and student, faculty and industry innovation engagement. Schubert also serves as a consultant specializing in innovation, entrepreneurship, technology and organizational optimization for new and ongoing companies. He has 35 years of industry experience, including serving as a CIO, CTO, COO and consultant for start-ups, mid-size, and enterprise companies such as IBM, Dell, Lifetouch, Hewlett-Packard Enterprise and (most recently) ShopTimely.
Alan Ellstrand is associate dean of academic programs and research for the Sam M. Walton College of Business. His major areas of research include corporate governance, top management teams and executive leadership. He has received several awards, including the University of Arkansas Alumni Association Award for Teaching and Service, the Walton College Award for Outstanding Service and the Walton College Outstanding All-Around Faculty Award. Prior to serving as department chair, Ellstrand was director of M.B.A. programs for the Walton College.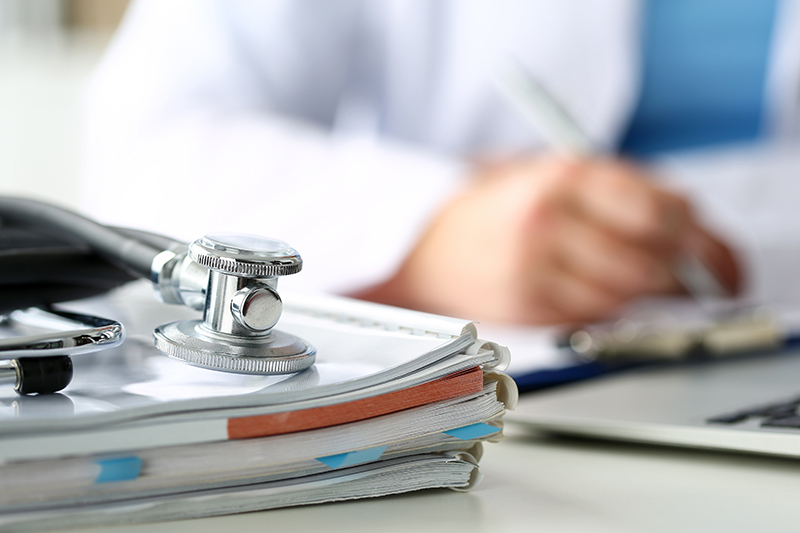 Class will meet Wednesdays, 3:45-5:00 p.m., Spring 2020
The "doctor as healer" and the "genius doctor" are two common personae in the American psyche based upon popularized depictions of physicians and surgeons in media. And these prolific dramatizations often feed cultural and personal myths about what the life of a doctor can and will be. This Honors College Forum requires students to think critically about such popular depictions, as a way to enter conversations that help parse out fantasy from reality. Such critical analysis will become the starting point for students to engage in self-reflection as they begin composing authentic responses to the BIG THREE QUESTIONS med school admission committees want to know. We will also use this forum to help med school applicants develop a deeper awareness some of the most important issues facing medical doctors these days, such as the opioid crisis, the relationship between the American Medical Association and the U.S. government, the increasing elderly population, and the rise of corporate healthcare.
Dr. Mack Ivey is a leading faculty participant in helping U of A undergraduates on the premed track navigate the process of becoming competitive med school applicants, from helping students select premed "core" and "supporting" course work to discovering opportunities for professional development. Ivey earned his Ph.D. in biochemistry from the University of Georgia in 1987, and joined the faculty of the University of Arkansas Department of Biological Sciences in August 1992. He is a member of the Center for Protein Structure and Function research team and a member of the Fulbright College Honors Council.
Monica Moore earned her M.A. in communication from the University of Arkansas in 1996 and joined the community of faculty, staff and students as assistant director of recruitment in the Office of Admissions in 1997. Since joining the Fulbright Advising team in 1999, she has developed an expertise in mentoring students. After serving as assistant director for honors studies in the Fulbright College of Arts & Sciences, she deepened her understanding of the field of communication studies while completing course work toward a Ph.D. at the University of Minnesota-Twin Cities.
Class will meet Thursdays, 2-3:15 p.m., Spring 2020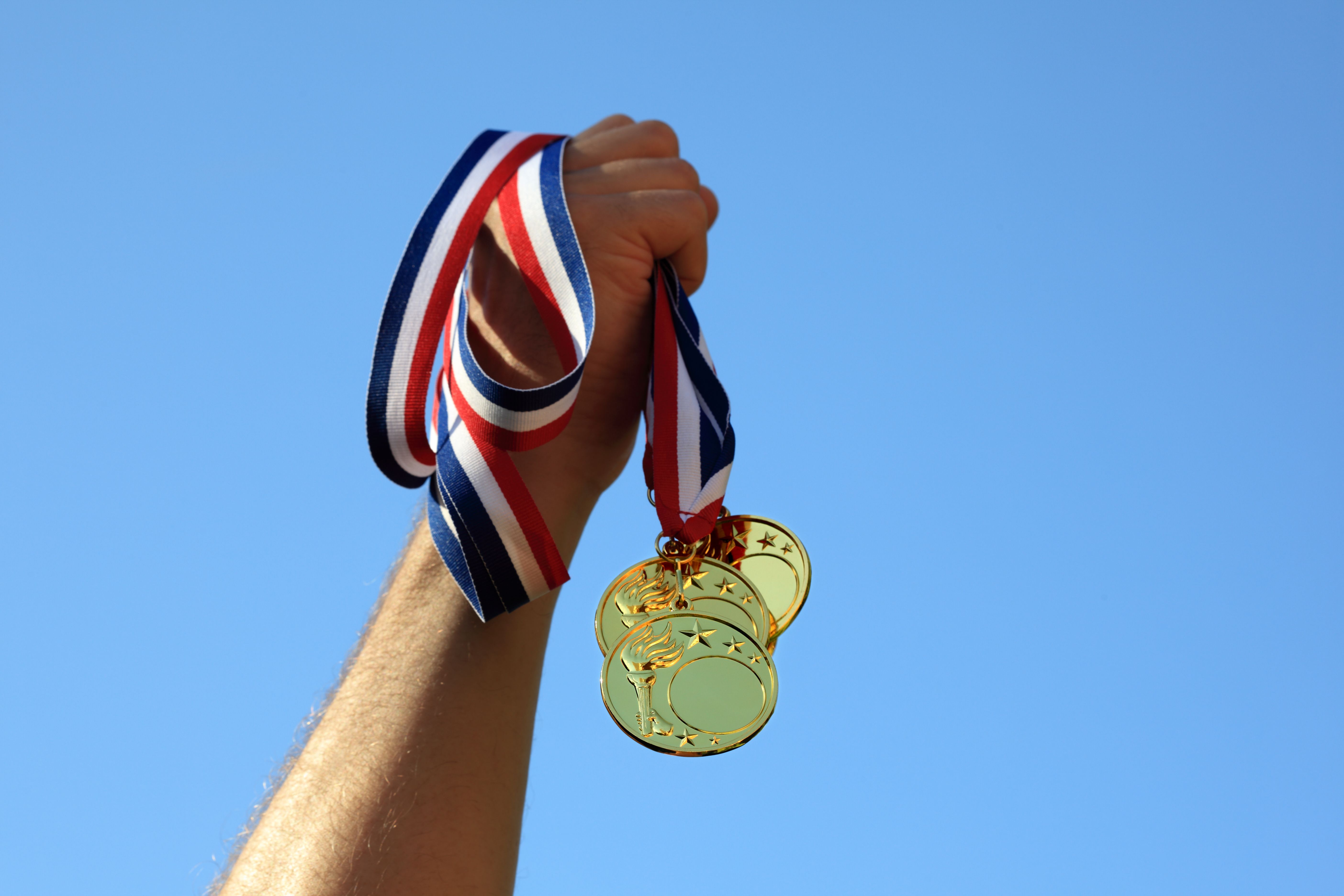 The 32nd edition of the Modern Olympic Games kicks off in Tokyo, Japan, on July 24, 2020. While the International Olympic Committee (IOC), the event's owner, was founded on the ideals of amateurism and claims to be free of politics, a review of the Games' history suggests otherwise. This seminar will explore the political history of the Games, from boycotts to political demonstrations to the process by which a country is recognized by the IOC to compete in the Games. Other topics will include the rise of commercialism in the Games, as well as the movement away from amateurs and inclusion of professional athletes.
This course presents an overview of international sport, in particular the Olympic movement. Topics include governance, policy, organization, marketing, symbolism and sociopolitical history. It will not focus on individual athletic accomplishments, though it will address individuals when appropriate.

Steve Dittmore is assistant dean in the College of Education and Health Professions and a professor of recreation and sport management. Prior to his career in academia, Dittmore worked 10 years in the Olympic movement in the area of media relations. He worked for both the Atlanta 1996 and Salt Lake City 2002 Organizing Committees. He has presented at the International Olympic Committee headquarters in Lausanne, Switzerland, and worked international sporting events in more than 10 different countries.

Class will meet Mondays, 5-6:15 p.m., Spring 2020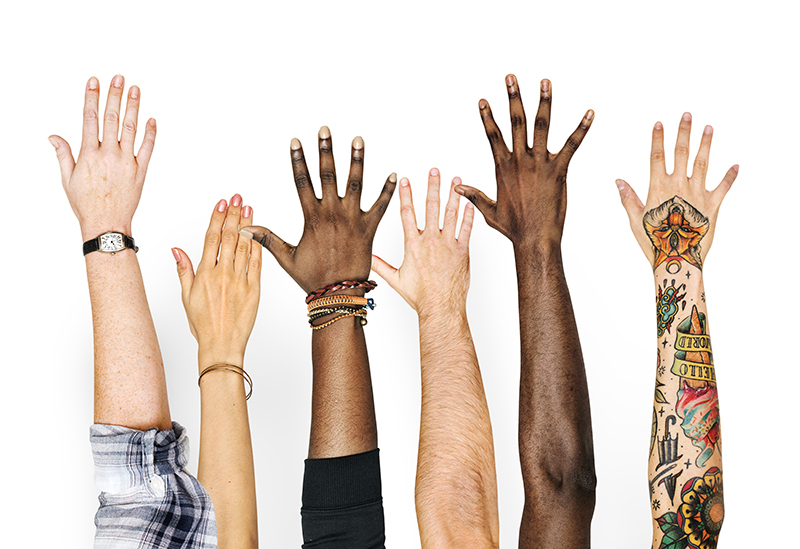 Often, service drives us to take up a hammer or power tool with no prior construction training; at other times, we find ourselves digging deep into a community to examine its strengths and its needs. In either case, what do these actions mean for those serving? What do they mean to the community being served? If you've ever asked yourself these questions, this course is for you. "SERVICE" will examine what it means to serve: the privilege inherent in service, the leadership skills and potentially life-changing experiences gained through service work, even the connotations of the word "service" itself. This forum will meet once a week to address a variety of viewpoints on the history of service, its strengths and its shortcomings. Additionally, community leaders and changers will meet with forum participants to discuss how they have defined service -- in their work, their resources and their roles as individuals and community members. This course will culminate in a civic action plan to allow students to reflect on the course content, and how it impacts their own personal and professional goals and interests. This forum will allow us to explore, engage and enact what it means to SERVE.
Jennie Popp is associate dean of the Honors College, where she oversees the Honors College fellowship and grant programs, serves as the college's liaison with the six college-based honors programs, and leads and directs new initiatives in international research and service learning. Popp is a professor of agricultural economics and agricultural business and co-director of the University of Arkansas Service Learning Initiative, which has built support and expanded opportunities for faculty and students, with more than 150 service learning course sections currently offered on campus and abroad. She helped to launch service learning on campus by developing the agricultural component of the community development program based in Dangriga, Belize. She has led or contributed to more than $20 million of externally funded research on campus.
Katie Powell is associate director for student success in the Honors College, where she coordinates and manages Honors College programs that range from special events series to student-led initiatives and ideas. She also contributes to service learning course development, assists with communications initiatives, and seeks to build community for current and future honors students through various campus and local initiatives. Powell graduated from Millsaps College in 2013 with a B.A. in English and received her M.Ed. in higher education at the University of Arkansas in 2015. She served for two years as the director of civic engagement at Cornell College in Mt. Vernon, Iowa, where she gained valuable insight into civic education, the community organizing tradition and growing corn. Powell is currently pursuing her Ph.D. in English with a concentration in rhetoric and composition at the University of Arkansas.