Forum: Arkansas Business


Tyson Foods ... J.B. Hunt ... Dillard's ... Stephens ... Walmart.
The roll call of global businesses that began in Arkansas is an illustrious one. In this forum, students will explore why our state has produced a run of amazingly profitable companies, despite the fact that landlocked Arkansas used to lack good roads and so many other factors that contribute to success. Why here? Why not New Jersey? Walton College of Business Dean Matthew Waller thinks grit has a great deal to do with Arkansans' success, and is writing a book on this topic. Students enrolled in this forum will watch this groundbreaking book take shape and contribute to Dean Waller's research.
The course will begin with a close look at one of the state's earliest successes – Murphy Oil – the first company to drill in Iran and offshore in Africa, and work forward from there, studying the major players and applying the theories of business to understand how these companies emerged as winners. Dean Waller will host extremely successful business people and students in the course will have the opportunity to network with them.
Please join us for the preview lecture:
Matt Waller, Arkansas Business
5:30 p.m. Tuesday, March 7, 2017
Gearhart Auditorium (GEAR 26).
What's in it for you:
Meet and interact with Arkansas' most successful entrepreneurs, managers, and leaders
Develop a rich understanding of Arkansas' top businesses and people so that you can apply key learnings in your life and business endeavors
Get a master class in networking from a master networker
What's required from you:
Select, research and analyze an Arkansas business, its core personnel and a competitor
Explain why the organization has prospered and identify future opportunities
Identify key business processes or business models that enhanced the focal company's success
Outline the key networks of people who enhanced the focal company's success
Show how a key leader in the organization mapped the company's path to success
About Matt Waller: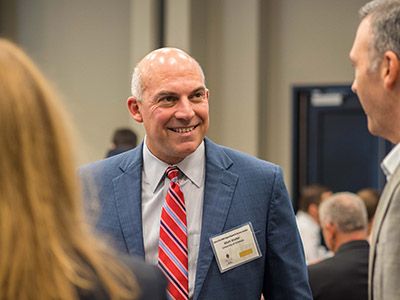 Matt Waller has his eye on epic goals as dean of the University of Arkansas' Sam M. Walton College of Business, which continues to be a business leader in the state. Prior to becoming dean in 2016, Waller served as interim dean, as Walton's first associate dean for executive education and as the chair of the college's Department of Supply Chain Management. He also held the Garrison Endowed Chair in Supply Chain Management.
In his time in the dean's office, Waller has started many new initiatives, reached out for interdisciplinary programs across the university, and laid plans to push the Walton College to even higher accomplishments and accolades. For example, in 2016 the college opened the McMillon Family Retail Innovation and Technology Lab with a gift from Walmart Chief Executive Officer and Walton College alumnus Doug McMillon and his wife, Shelley.
Waller received a B.S.B.A. summa cum laude from the University of Missouri, and an M.S. and Ph.D. from Pennsylvania State University. His business experience includes being partner and co-founder of Bentonville Associates Ventures in 1996-2002 and chief strategy officer and co-founder of Mecari Technologies in 1998-2002.
He is co-inventor of U.S. Patent No. 6,341,269 B1 for a System, Method and Article of Manufacture to Optimize Inventory and Merchandising Shelf Space Utilization. He is co-editor-in-chief of Journal of Business Logistics, the leading academic journal in the discipline. His opinion pieces have appeared in Wall Street Journal Asia and Financial Times and he has been an SEC Academic Leadership Fellow. His research and teaching focus is on retail supply chain management. A paper he co-authored on total quality management is one of the most cited in 40 years in the journal Decision Sciences. His paper regarding vendor-managed inventory systems is third place for the most citations in the Journal of Business Logistics.
Waller is coauthor of The Definitive Guide to Inventory Management: Principles and Strategies for the Efficient Flow of Inventory across the Supply Chain published by Pearson Education.
Questions? Contact Louise Hancox.