Honors Courses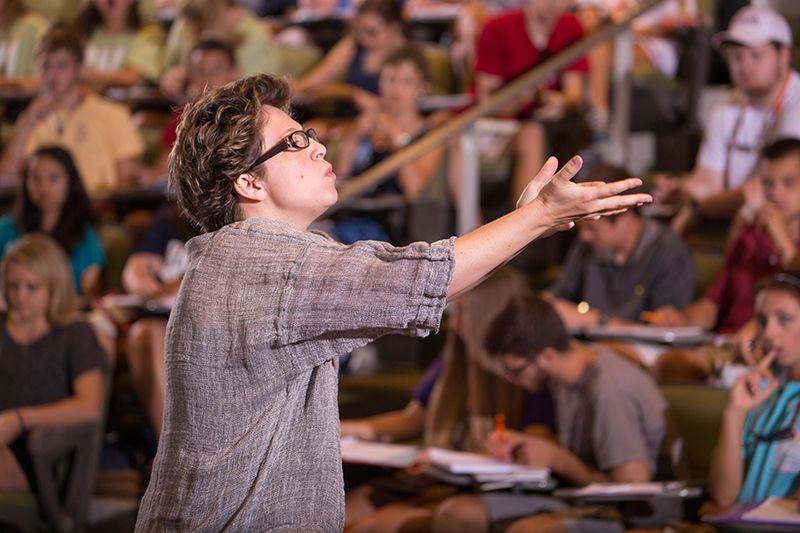 In an honors course, you'll get the facts and something more - an invitation to dig deep and think critically. Honors courses tend to be smaller, more in-depth and designed to spark individual exploration of a topic. In your first year or two you'll have the opportunity to take honors sections of core courses in math and science and in the humanities, such as the highly regarded Honors Humanities program (H2P), a three-semester seminar on world civilizations taught by an interdisciplinary team of professors.
Signature Seminars
In these interdisciplinary seminars top professors and campus leaders invite a select group of students into their world of amazing research. Past and current offerings include Teeth, Prosecution, Race and Cancer. Applications are currently being accepted for our spring 2018 courses on Internet, Manuscript and Soccer. For future seminars, we're considering a wide range of topics, from hunger to aging, water and Jesus.
Forums
This series brings star faculty and top administrators together with honors students to discuss trending issues, from the 2016 presidential election to leadership roles at a flagship university. This semester, students are exploring the rich world of Arkansas business with the help of executives from across the state, including Governor Asa Hutchinson. In the spring we will be guiding students through the intricacies of the first year of the Trump presidency in our Trump 365 course.
Interdisciplinary Courses
In the past 10 years, we have helped to develop 30 interdisciplinary courses with more than $500,000 in startup funding. Topics range from the drug development process to music, language and thought, and give you a great opportunity to consider big issues from several points of view.
Colloquia
The U of A also offers a diverse range of colloquia: you can develop hands-on expertise managing a $5 million portfolio, participate in an oral history project or broaden your perspective with a course on space exploration.
Courses change from year to year.
Among the recent offerings:
Quantum Reality and the Spiritual Quest

Chemical Engineering Design II (students develop environmental projects, for example production of butanol fuel from algae, and enter them in national competitions)

The South in History, Literature and Film

Mathematical Design and Manufacturing

Tibetan Buddhist Philosophy and Culture

Rivers in Peril

Leadership in Food Policy

Cool Books about Stuff that Really Happened (Creative Nonfiction)

Sustainable Logistics and Supply Chain Management
For more information on courses offered in your major, talk to your honors program director.