Honors Humanities Program (H2P)
Honors Humanities Program (H2P)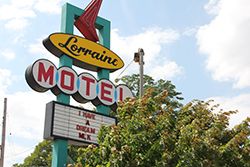 Now in its 22nd year, this three-semester seminar on world civilizations is taught by teams of top professors.
The course chronology ranges from the shrines of early Christian martyrs and Mayan ball courts to the shag splendor of Elvis' Graceland mansion and the impossible proportions of the Barbie doll. The goal of the course is to build bridges across disciplines and colleges and to move beyond the simplistic duality that often shapes humanities courses – Western/non-Western, ancient/modern, sacred/profane and civilization/barbarism, for example.
Class lectures are augmented by weekly discussion sections where students are encouraged to express their point of view.
"The students get comfortable with discussion in these seminars – they're good preparation for job and scholarship interviews," said Honors College Dean Lynda Coon, who has been involved with the course since it began in 1995.
H2P alumnus and Sturgis Fellow Jay Carney is now a professor of theology at Creighton University whose first book, Rwanda Before the Genocide: Catholic Politics and Ethnic Discourse in the Late Colonial Era (Oxford University Press, 2013) won the Bethwell A. Ogot Book Prize by the African Studies Association. In a recent email he confirmed the challenges and value offered by the course:
"H2P was tough … But this 'humanities boot camp' … showed me that the humanities really matter. Modern American higher education can be pragmatic to a fault; everything is about job preparation, professional skill development, career networking, etc. And given the costs of higher ed, much of this is understandable. But at its roots, a liberal arts education is about much more than 'getting a job' or 'getting into a good grad school.' It's about thinking about what matters, seeking truth and meaning in a complex world. When I was first beginning my dissertation on Catholic history in pre-genocide Rwanda, I was told by multiple contacts that 'thousands of people have died here over how we tell our history.' Rwanda showed me that history is a life and death matter. But the journey that led to this conclusion really began back in H2P."