Mac Stephen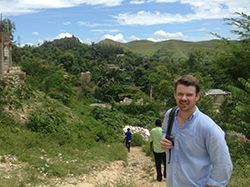 Mac Stephen, an honors pre-med student, has accomplished a lot at the University of Arkansas: study abroad trips to Central America, service learning projects on and off campus, and an honors thesis on immunology under the direction of Jeannine Durdik, associate dean for research in the Fulbright College of Arts and Sciences. Through these experiences, he has discovered that the world needs better medical care and technology, and he has discovered that he has the skills to help provide those things.
With funding from a Bodenhamer Fellowship, Mac traveled to the Dominican Republic, where he took classes on medicine and development, provided blood pressure screening and information, and observed physicians in local hospitals. While studying in Belize, he created a foundation to aid hungry school children. Mac also discovered service learning opportunities closer to home. For the past three years, he has worked in the pathology lab at Washington Regional Medical Center, assisting the pathologists who analyze organs that have been removed during surgery. Mac has also gained research experience while working on his honors thesis. He is studying T-cells, important components of the human immune system, to see why they weaken as they age and to look for ways to keep them working effectively.
Mac will be attending Harvard Medical School this fall. He credits the "wide variety of opportunities that were available on campus, especially through the Honors College," with helping his med school application stand out. Eventually, Mac would like to work as a primary care physician or an emergency room doctor, and he explained that "the encouragement and mentorship of faculty" helped him discover his passions and achieve his goals.
Search students by majors