Los cursos universitarios de honores
Los cursos universitarios de honores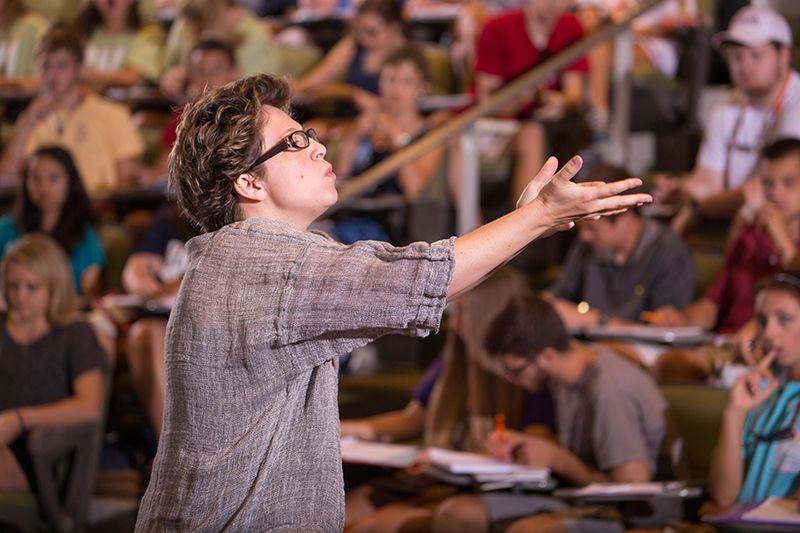 En un curso de honor, obtendrá los datos y algo más – una invitación a profundizar y a pensar críticamente. Los cursos de honores tienden a ser más pequeños, a profundizar más y están diseñados para suscitar la exploración individual de un tema. En su primer o segundo año, tendrá la oportunidad de cursar secciones de honores de los cursos generales de matemáticas, ciencias y humanidades, tal como el prestigioso Programa de Humanidades de Honores H2P (Honors Humanities Program), un seminario de cuatro semestres sobre civilizaciones del mundo dirigido por un equipo interdisciplinario de profesores.
Cursos Interdisciplinarios
En los últimos diez años, hemos ayudado a desarrollar 30 cursos interdisciplinarios con más de $500 000 dólares en fondos de inicio. Los temas van desde el proceso de desarrollo de farmacéuticos hasta la música, el lenguaje y el pensamiento. Estos cursos le dan al estudiante una gran oportunidad de considerar cuestiones significativas desde diversos puntos de vista.
Colloquia
También ofrecemos una gran variedad de seminarios y de conferencias. Usted puede desarrollar experiencia práctica al administrar un portafolio, participar en un proyecto histórico oral o ampliar su perspectiva con un curso de exploración espacial.
Los cursos cambian anualmente.
Entre los que se ofrecen recientemente tenemos:
Curso Arvest de valores de ingreso fijo (The Arvest Fixed Income Securities course). Los estudiantes administran un fondo de renta fija de $5 000 000 de dólares.
Realidad cuántica y búsqueda espiritual (Quantum Reality and the Spiritual Quest).
Diseño II de ingeniería química (Chemical Engineering Design II). Los estudiantes desarrollan proyectos ambientales y los presentan en competencias nacionales, por ejemplo, la producción de combustible de butanol extraído de algas.
El sur en la historia, la literatura y el cine (The South in History, Literature and Film)
Diseño matemático y manufactura (Mathematical Design and Manufacturing)
Cultura y filosofía tibetana y budista (Tibetan Buddhist Philosophy and Culture)
Aplicaciones de ejercicios para las poblaciones especiales (Exercise Applications for Special Populations)
Ríos en riesgo (Rivers in Peril)
Liderazgo en políticas alimentarias (Leadership in Food Policy)
Libros interesantes sobre cosas que en realidad sucedieron (Cool Books about Stuff that Really Happened (Creative Nonfiction)
Logística sostenible y manejo de cadena de suministros (Sustainable Logistics and Supply Chain Management)
Laboratorio de nanotecnología (Nanotechnology Lab)
Para más información sobre los cursos ofrecidos en su especialidad, comuníquese con el director de su Programa Universitario de Honores (honors program director).