Study Abroad Grant Documentation
Study Abroad Grant Documentation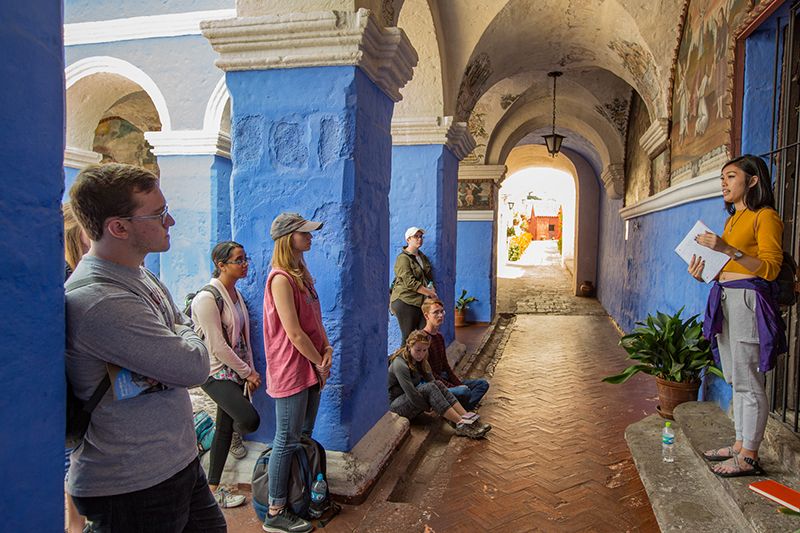 Click here for the STUDY ABROAD GRANT DOCUMENTATION SUBMISSION FORM

Congratulations on receiving an Honors College Study Abroad grant! We hope it is one of many you receive throughout your career. As always when receiving grant support, it's important – and professional – to submit timely documentation of the grant's impact. All study abroad grant recipients are required to submit a blog post and photos – please see below for specifics, as the options for documentation have changed. The best writing and photography will be considered for publication in the Honors College blog; A+, the Honors College Magazine; and other Honors College materials.
How: Fill out the Study Abroad Grant Documentation Form. The form will prompt you to upload your blog post and/or photographs.
When: These materials should be submitted while you are studying abroad. (If internet access is limited, you may submit materials within two weeks after the end of the grant period.) We will review and use as needed for Honors College presentations, publications and the Honors College blog
Note: recipients of the Libby Finch Award must submit blog posts on a monthly basis. Please use the Study Abroad Grant Documentation form to submit your materials.
Blog Post and 3 Photographs
Length: between 500 and 1,000 words
Your blog MUST address each of the following 3 subjects in some capacity* (you are not limited to the suggestions listed below!):
Academics: Give us at least 250 words on what you learned. Be sure to address the following:
What was the name of the program you went on? Why did you choose this program?
How does it advance your academic and professional goals?
How were your classes and instructors?
How do classes differ from those at the U of A?
Culture: Any experiences you had outside of class. Examples include:
food
architecture
music
art
road trips
hiking and camping
encounters with interesting people
culture shock (these stories often make fun and interesting blogs!)
descriptions of daily life
travel/transportation
society
Advice:
Would you recommend this program to other students?
What do you wish you'd known beforehand?
What's the first thing you're going to do when you return home?
Photos:
Include at least three high quality photos in .jpg or .png format
At least one photo should have YOU in the frame!
Action shots or candids are preferred over staged photographs. This is your chance to get creative!
Please, no Instagram filters.
See Photo Tips for more information!
EXAMPLES:
NOTE: It's always a good idea to center your blog post around a particular thesis. In the examples above, math major Jacob Maestri used a fog-cloaked climb up Cape Town's Table Mountain as a starting point for reflecting on his study abroad trip; accounting major Thea Winston gained a new perspective on race relations while studying at the University of Sussex.
Keeping your own blog about your adventures? Fantastic! Please send us the URL. However, we still need a blog post from you summarizing your experience.
Questions? Contact Chelsea Hodge at cew003@uark.edu or 479-575-3127.
*We expect polished, carefully-crafted blog submissions. If your blog does not fulfill the above requirements, it will not be accepted and we will ask you to edit and resubmit.