On Display
Site Insensitivity and Social Malpractice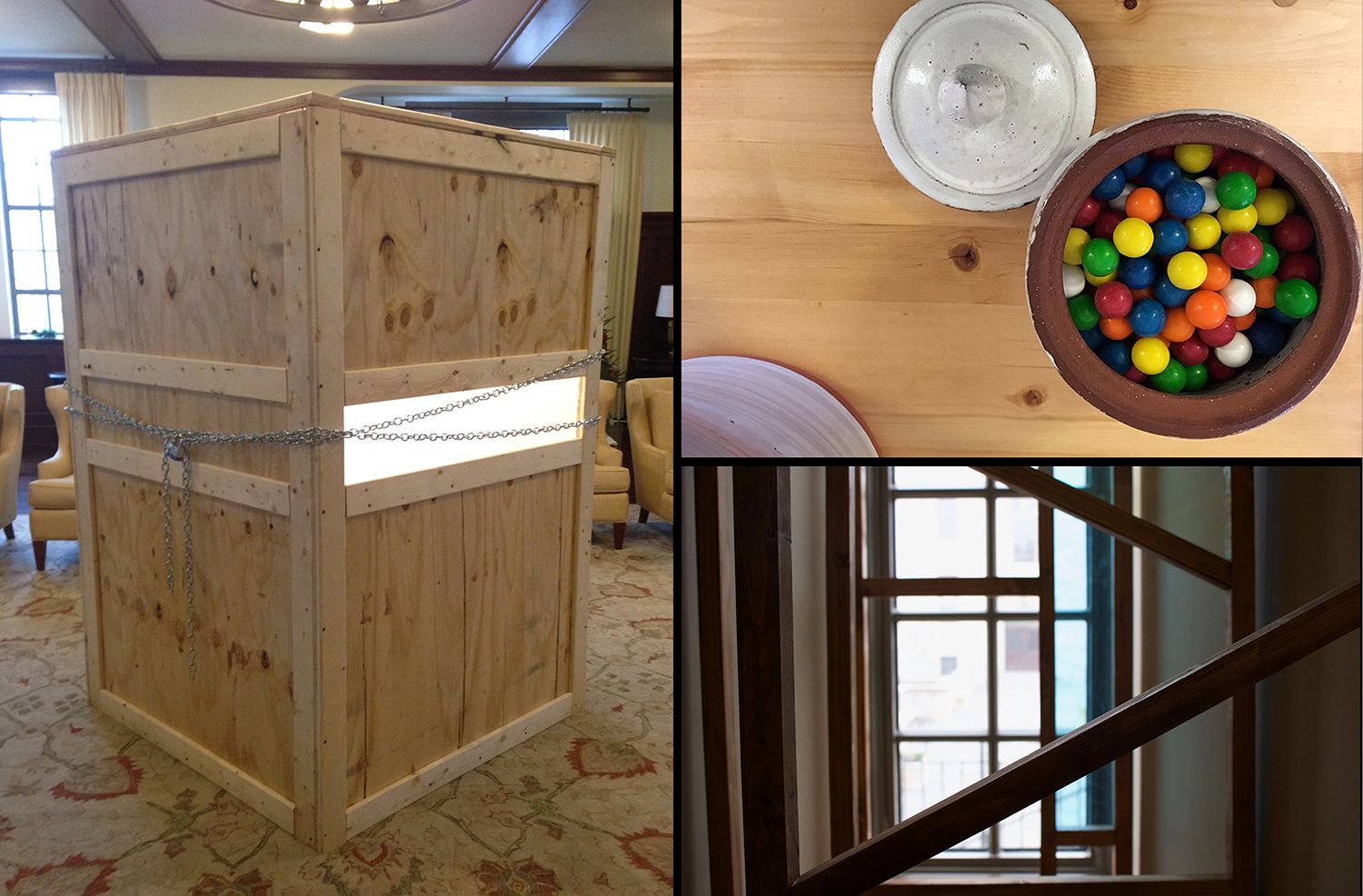 Student artwork from Elizabeth Sheeler (left), Lindsey Shackelford (top right), and Brittany Cusanek (bottom right) in Gearhart Hall.
Something's up in Gearhart Hall this semester. An eye-popping pink-magenta mat welcomes you to the Honors College space, and a large box, girdled in chains and lit from within, lurks in the Honors Student Lounge. Upstairs, candy and other treats await the curious – and have you heard Virtual Fountain outside our front door? These and other works throughout the Honors College wing were created by students enrolled in ARTS 423V Special Problems in Sculpture: Dematerialization of the Object and ARTS 4223 Advanced Sculpture, both taught by Bethany Springer, Associate Professor of Art.
Students were prompted to design and build projects in response to the context in which their work would be displayed. They considered the user group who occupies the Honors College on a daily basis, the space's physical elements and ideological institutions, and the means by which information may be exhibited, distributed, and disseminated during the five-month exhibition.
Professor Springer comments:
"For us, it was a great opportunity to get outside of the white cube – I think the class was excited to respond to content already present in this space.
Some of the pieces may be immediately recognized as an addition to the Honors College, while others are more camouflaged in the space. For example, the jars that Lindsey Shackelford placed on the second floor, which she will refill throughout the semester, blends into the second floor lounge by simulating the existing color and interior design elements in the space. Students working there who investigate will find this surprise, a piece of candy or a baked good. With Jesse Turner's piece, the Can Ram, you feel like you're being helpful by crushing cans, but Jesse actually plans to make money on this. He's subverting the relationship between manager and laborer, and making the students work for him. Some of the projects are complicated in that sense."
Exhibiting artists include Connie Cramer, Brittany Cusanek, Amanda Fuller, Wanbli Gamache, Michael I. Ramirez, Elisha Rosanova, J. Seymore, Lindsey Shackelford, Elizabeth Sheeler, Kimberly Tomlinson, and Jesse Turner.
Support for these projects has been generously provided by the Honors College and the Department of Art at the University of Arkansas in Fayetteville.
Closing Reception, Thursday, May 4th from 5:30-7:30 p.m. Please join us for a reception celebrating the undergraduate student artists! This reception is free and open to the public and will be held on site.
Got work and want to share it?
Send us your poems, drawings, short stories, set designs, photos, prints, paintings or any other creative effort you have polished to perfection. All submissions will be considered for publication in a wide range of Honors College communications, including A+ Magazine, the Honors College blog and other social media. We're also looking for creative work to display in Gearhart Hall. For submission guidelines and link to online submission form read the Students: Got Art? blog post.