Ayo Yusuf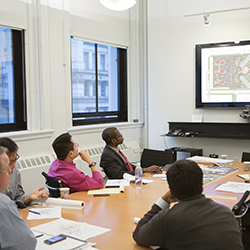 Ayodele Yusuf thinks big picture as an architectural and urban designer at
Perkins Eastman
, one of the largest urban design firms in New York City. An '06 honors architecture graduate of the Fay Jones School of Architecture, Ayo focused on urban design because it promised him the best tools to make an impact in his native Nigeria – especially Lagos, the city where he grew up.
"Lagos, now the largest city in Africa, has all kinds of infrastructure challenges," Ayo said. "When you think of a country like Nigeria, you need to think large scale, 20,000 feet up in the air, rather than work out the intricate design of a particular building – urban design gives you the tools needed to do that," he added.
Thanks to talent and training received from faculty mentors like
Laura Terry
, an associate professor of architecture, and
Marlon Blackwell
, distinguished professor of architecture, Ayo was accepted into Harvard's urban design master's program. He was one of only two students accepted right after completing an undergraduate degree. "My portfolio stood out, I believe, because it was the only one featuring hand drawings –– a focus of the U of A architecture program," Ayo recalled. "Coming from the University of Arkansas, you can go toe to toe with the best of the best," he added.
After earning his master's degree, Ayo moved to New York to work for EEK Architects, which later merged with Perkins Eastman. There, he has jump-started the work he hopes to eventually apply in Nigeria, turning challenges into opportunities.
He has played key roles in a wide variety of large-scale projects, ranging from waterfront planning to transit-oriented redevelopments. Most recently he has focused on resiliency planning for communities devastated by Hurricanes Irene, Sandy and Tropical Storm Lee, due to his firm's involvement with the New York Rising Community Reconstruction (NYRCR) Program. As project manager, Ayo managed a multidisciplinary team in completing four NYRCR Plans that encompass 18 communities in Nassau County, and Staten Island. This work has inspired his firm conviction that communities need to develop "resilience strategies" in the face of climate change and rising sea levels. "While extreme weather events are often unpredictable and unavoidable, how communities bounce back and rebuild should be predictable and well laid out," he noted.
Despite his full workload, Ayo still finds time for himself. A few years ago he began making organic, vegan chocolate truffles, donating 15 percent of his sales to non-profit organizations like the African Leadership Academy. "The work you do with urban design tends to take a long time," he said. "With the truffles you get instant gratification, and that helps me deal with the day to day."
Ayo also hits the pavement of New York City regularly to train for the New York City Marathon; he has competed in three to date.