Mac Stephen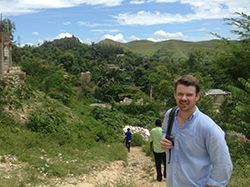 Mac Stephen first heard about the humanitarian work of Dr. Paul Farmer while a student in the Honors College. Dr. Farmer's mission to bring quality medical care to the poorest people on the earth struck a chord with Mac, who shares the same interests in anthropology and medicine. The former Bodenhamer Fellow is taking time between his third and fourth years at Harvard Medical School to earn a master's degree in global health care delivery. He works closely with Dr. Farmer, professor of global health and social medicine at Harvard and co-founder of the non-governmental organization Partners in Health.
Mac spent much of last semester in Haiti, "the very epicenter" of the global health issues he studied in class, he said. His research topic is hypertension and patient perspectives on health care access and management. How well do patients understand their conditions? What keeps some people from receiving the medications they need to manage their diseases? What else is needed to deliver high-quality, equitable care in settings of such extreme poverty? The answers are linked to the social structures that circumscribe their lives, Mac explained. The goal of Partners in Health is to address those underlying issues while bringing quality health care to the areas that need it most.
Mac plans to practice as a primary care provider after he serves his residency, bringing what he's learned to rural or semi-rural populations in the South. He is currently involved with a project led by a Harvard physician to develop a community health delivery program in the Arkansas Delta.
The question is "how to link people to health care systems more efficiently and more compassionately," he said. "We have the same socioeconomic inequalities here. Sometimes they're harder to see. I would like to take all these lessons in public health intervention in developing countries and apply them back to places in the United States."
Mac's four years in the Honors College helped him formulate and realize his goals, he said. "It's hard to underestimate how much the Honors College shaped my direction. The financial support, the professors and administrators, the advising: All were incredibly helpful in pointing me in the right direction."
Mac studied anthropology for a year at the University of Cambridge and spent summers in the Dominican Republic and Belize, working on public health topics. He gained additional research experience while working on his honors thesis about the role of T-cells on the human immune system. These varied experiences gave him a well-rounded profile that helped him get accepted to Harvard, he said.
Update: Mac completed his residency at Vanderbilt University and continues to work in Nashville as a hospitalist. He has also started advising a small startup company that is working to improve rural healthcare access.