Meredith Brown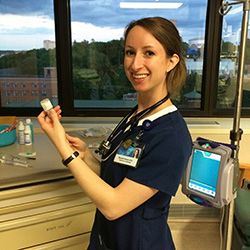 Between her junior and senior years in the UA's Eleanor Mann School of Nursing, Meredith Brown served a 16-week externship at the prestigious
Mayo Clinic
in Rochester, Minn. She was assigned to the neuroscience intensive care unit, a specialty area she quickly came to love.
"It's a very special unit, particularly at Mayo," Meredith said. The department of neurology and neurosurgery has been ranked No. 1 or 2 by
U.S. News & World Report
for more than 20 years. "Many patients turn to us because, with our resources and unique experience, we may be able to help in ways that other facilities can't."
Meredith returned to Mayo after she graduated
summa cum laude
from the university in 2011. She continues to work in neuroscience intensive care. About half of her patients require surgical treatment for brain tumors, lesions, and spinal cord injuries. The others suffer from medical conditions such as strokes, traumatic brain injuries, seizures, and chronic disorders such as ALS.
Acute care is a good fit for her, Meredith said. "I actually enjoy the intensity. I like combining the very hands-on, physical aspect of nursing with the critical thinking aspect — problem solving, thinking on your feet, keeping up on trends. It's intellectually stimulating."
The relationships she forms with patients and families are a treasured aspect of her work. "You wear a lot of hats in nursing. There's the medical aspect: You have to be on top of your game. You're also a counselor, a listener, a friend. It's a privilege to be there for patients and families in that critical phase."
"I get to see dramatic results sometimes. The work I do has a direct, observable impact, which is rewarding."
Meredith has high regard for the education she received in the UA nursing program. "I graduated feeling very much prepared — nervous, but prepared." A required lecture course in critical care gave her an advantage many other programs don't provide, she said.
The Honors College emphasis on cultivating excellence continues to inform her career, Meredith said. She pursued certification as a critical care nurse after arriving at Mayo and volunteered to mentor student nurses in the same summer program that shaped her path.
She encourages nursing students to "learn early on how to balance work with play." She's developed her own support system through friendships with other health care professionals and through her church.