Honors College Invites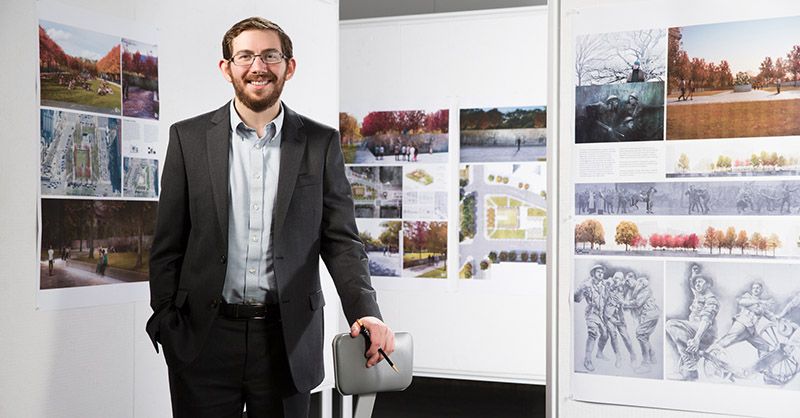 Joe Weishaar

Wednesday, April 3, 2019
Lecture: "To End All Wars: The Fight for the National WWI Memorial"
6 p.m., Gearhart Hall Auditorium (GEAR 26)
Light reception to follow lecture
Please RSVP and come early to reserve your seat!
Honors alumnus Joe Weishaar was a 25-year-old architecture intern with a Chicago firm when late-night and weekend design work paid off big. He beat out more than 350 applicants from around the world to design the national WWI Memorial in Washington, D.C. The jury praised his proposal, The Weight of Sacrifice, as "elegant and absolute," and a "deceptively simple concept" that remediated a problematic site, Pershing Park, located just a block from the White House. His design centered around replacing the park's litter-strewn, dried-up sunken pool with a lawn at street level, and inserting an 87-foot-long bronze wall, featuring the work of sculptor Sabin Howard, that invited touch.
Two years later, the project has hit a few road bumps, centered chiefly on a reconsideration of Pershing Park, which was designed by M. Paul Friedberg and completed in 1981, as an "exceptional example of a landscape design of the modern period," according to the National Park Service. Weishaar will discuss the project and his own war stories on the Beltway battle to get the memorial approved and built.
The Honors College Invites series was launched by an honors student in 2012 and our students continue to lead the way in bringing thinkers and doers to campus.