Honors College Mic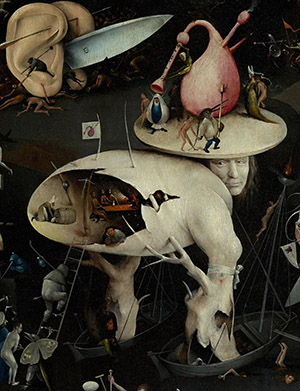 Hieronymus Bosch, The Garden of Earthly
Delights (detail), Museo del Prado, Madrid.
Lynn Jacobs, "Hieronymus Bosch and the Vision of Hell"
Thursday, Oct. 4, 2018, 5:15-6:45 p.m.
Gearhart Hall Auditorium (GEAR 26)
A diabolical bird on a potty chair, eating (and excreting) the damned … a group of lost souls crushed by a pair of giant ears with a phallic knife wedged between them … the enigmatic "Tree Man" –the artist himself? – whose body cavity hosts a tavern. Hieronymus Bosch's hallucinogenic vision of Hell, famously depicted on the right panel of his masterpiece triptych, The Garden of Earthly Delights, has intrigued and confounded scholars since it was first produced in the late 15th century or early 16th century, almost certainly for an aristocratic client rather than the Church. (Take an interactive tour of Bosch's Garden of Earthly Delights.)
Lynn Jacobs, distinguished professor of art history in the J. William Fulbright College of Arts and Sciences, will shed new light on this nightmarish scene and unravel the meaning of one of its weirdest features: the ladder. Join us!
Honors College Mic showcases top faculty on this campus, who combine the skills of a dazzling lecturer with expertise on fascinating topics. Overall, these lectures foster intellectual conversation at the University of Arkansas through shared dialogue between lecturer and student, faculty and staff, and the wider populace.