Honors College House Concerts
Honors College House Concerts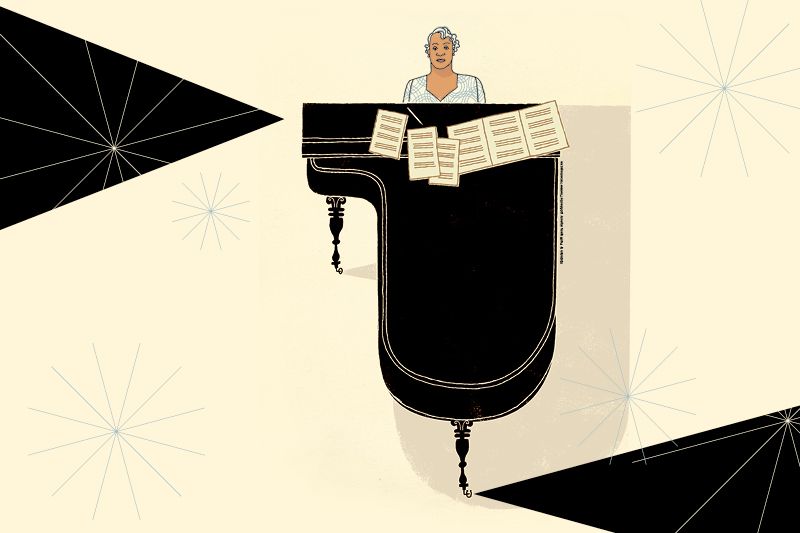 Illustration by Paul Rogers originally published by The New Yorker magazine.
Florence Price: Duos & A Lost Concerto
Tuesday, February 5, 2019
6 p.m.
Honors Student Lounge, Gearhart Hall, University of Arkansas
Light reception to follow the concert. Come early to reserve your seat!
Featuring
Er-Gene Kahng, violin
Nathan Carterette, piano
Florence Price, originally from Little Rock, was the first African American woman to achieve national recognition for her accomplishments as a symphonic composer, but her reputation waned following her death in 1953. The recent, chance discovery of musical scores believed to be lost has sparked renewed interest in Price's career and a new recording of two of these pieces, Violin Concertos Nos. 1 and 2 (Albany Records). Featuring violinist and UA faculty member Er-Gene Kahng, with Ryan Cockerham conducting the Janáček Philharmonic Orchestra, the recording won praise from New Yorker music critic Alex Ross, who commented on Kahng's "lustrous tone and glistening facility."
Please join us for the first-ever performance of Florence Price's work on campus. Rounding out the program will be a violin sonata by Irene Britton Smith, another Chicago-based African-American composer, and work by contemporary Korean composer Quentin Kim, who will attend this performance.

The Honors College House Concerts series was launched when internationally acclaimed concert pianist Jura Margulis first encountered the Honors Student Lounge in Gearhart Hall and predicted that it would be a great space for enjoying music. He was right! In addition to hosting Margulis we have featured mezzo-soprano (and honors alumna) Sarah Mesko, Schola Cantorum, the Boston Mountain Brassworks, the Rhizome String Quartet, the Lyrique Quintet, jazz guitarist Jake Hertzog and, in collaboration with TheatreSquared and the departments of music, theatre, and African and African American Studies, an Evening of Nina Simone. The beautifully appointed room provides an comfortable setting for our intimate house concerts.