Bob McMath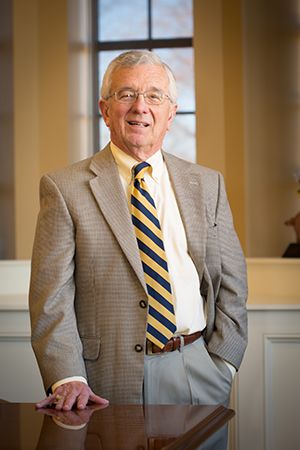 Bob McMath, dean emeritus, Honors College and professor emeritus of history, J. William Fulbright College of Arts and Sciences. Founding Dean Bob McMath built a strong foundation for the Honors College during his nine-year tenure, providing the vision and framework that have made the college nationally prominent. Under his leadership, the Honors College was ranked 17th in "Overall Excellence" in the first national study of the top 50 public honors programs and ranked third out of 50 in "Excellence Impact."
McMath put the university at the forefront of national trends by awarding more than $500,000 in grants that provided seed funding for 30 interdisciplinary courses on topics ranging from the digital recreation of ancient Roman cities to nanotechnology. He also shepherded the completion of a permanent home for the Honors College in the expanded Ozark Hall and the renovation of Hotz Hall as a well-appointed residence hall for honors freshmen.

McMath carved time out of his schedule to mentor honors undergraduate and graduate student research and to teach H2P and honors colloquia on topics related to his research on American and comparative populist movements.

Thanks to McMath's responsive leadership, he succeeded in building strong ties between the new Honors College and faculty and administrators across campus, as well as with donors, educators and other key contacts off campus. He and his wife Linda have left a lasting legacy by committing $100,000 to endow a scholarship for students enrolled in the new Path Program.