Carl Smith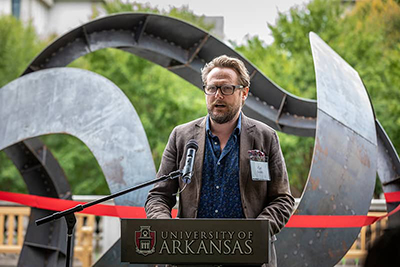 Carl Smith, professor of landscape architecture, Fay Jones School of Architecture and Design. Smith is a chartered landscape architect in the United Kingdom and has wide, international experience in the practice, teaching and research of landscape architecture and urban design.
Over the past 14 years he has developed honors design studio and class sections and has helped shepherd honors student work to national awards and peer-reviewed publication and presentation at national and international venues. They have published their research in Inquiry and Plot, and coauthored articles published in the proceedings of the Council of Educators in Landscape Architecture and The International Journal of Sustainability Education.
His students have won numerous grants and scholarships, and one of them, Hannah Moll, received two awards from the Arkansas and Central States chapters of the American Society of Landscape Architects, a rare honor for an undergraduate student.
Smith received the Honors College Distinguished Faculty Teaching and Research Award in 2016, and was among the first faculty members to receive the college's new Distinguished Faculty Artistry Award in 2021. The second award recognized his role in developing Gearhart Hall's courtyard curvahedra sculpture. The sculpture project grew from collaboration with Edmund Harriss, where the two explored the use of drawing and mathematics to identify, abstract, and communicate the special qualities of spaces and places. These are methods Smith continues to use to this day, working with communities from Conway, Arkansas, to Dushanbe, Tajikistan, and Athens, Greece. Through the Honors College Signature Seminar Place in Mind, the students, Harriss and Smith alighted on key strategies and tactics to lift the aesthetic experience and quality of the courtyard; qualities that later informed Smith's master planning work for the project.
Smith received the Howell-Vancuren Outstanding Faculty Teaching Award in 2009 and the Tau Sigma Delta Honor Society Medal for Distinction in Landscape Architectural Education in 2011. Other honors include his recognition as a Chancellor's Outstanding International Faculty and Researcher in 2011, as a Senior of Significance Mentor in 2015 and Outstanding Mentor by the Alumni Association and Office of Nationally Competitive Awards, respectively in 2016. He has served as an Honors College Dean's Fellow.