Ethel Goodstein-Murphree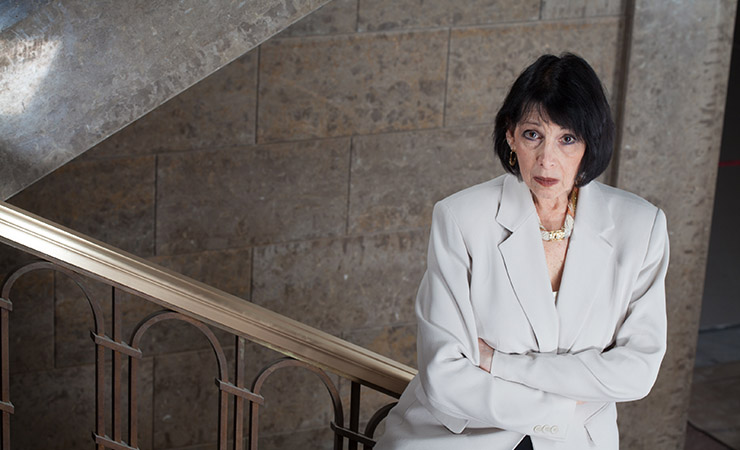 Ethel Goodstein-Murphree, professor of architecture and associate dean of the Fay Jones School of Architecture and Design.
Goodstein was part of the inaugural team to launch the Honors Humanities Project (H2P), which was honored with the AIA/ACSA Education Honors Award in 1996. She has taught both H2P I and H2P II, and could always be found wearing royal purple during the Byzantium unit. In the Fay Jones School, Goodstein teaches an honors section of History of Architecture III: The Twentieth Century, and has offered honors sections of many upper-level electives, most recently Civil Rights/Civil Space with Dean Peter MacKeith. In the spring 2019 semester, she will teach a course titled Mid-Century Modern: The Designer's Guide to the Postwar Era.
Goodstein has been involved with about 40 honors theses, 20 of which she directed or co-directed, and has served on the thesis committees for both architecture and landscape architecture majors, as well as several Fulbright students. She has mentored both SURF grant winners and Honors College Research Award recipients, and the students for whom she served as thesis director have gone on to earn higher degrees in a variety of fields, including history, law, divinity and architecture. Other students have pursued careers ranging from architectural design to historic preservation to craft brewing.
As a faculty member, Goodstein helped lead the drafting of the Department of Architecture honors curriculum, in concert with the founding of the Honors College, and helped facilitate the creation of an all-school honors curriculum with Dean MacKeith. She also created the curriculum for the first thesis-preparation course for the Department of Architecture. She serves as ex officio member of the Fay Jones School Honors Committee. As associate dean Goodstein has the good fortune of being a steward and supporter of the efforts of her peers in their work to advance the honors program and to cultivate the school's most outstanding honors students.