Fran Hagstrom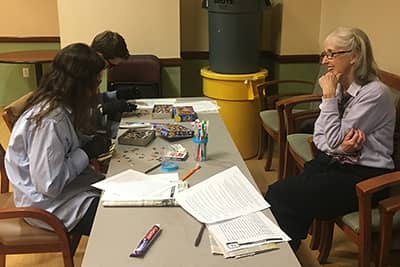 Fran Hagstrom, associate professor, communication sciences and disorders, College of Education and Health Professions.
Fran Hagstrom's connection with honors began in 2003 when Reed Greenwood, then dean of the College of Education and Health Professions, asked her, Marcia Imbeau and Nan Smith-Blair to organize the college's honors program. Having laid the foundation for honors in her college, Hagstrom then worked with colleagues to develop the interprofessional Health Teams Abroad-Sweden study abroad program that launched in 2007, which has seen continuous enrollment with the exception of the 2020-2021 halt due to the pandemic.
In addition to these landmark accomplishments, Hagstrom has reviewed honors grant applications, participated in the annual fellowship interviews, and served on various Honors College subcommittees. Hagstrom has mentored more than 50 undergraduate honors theses, the majority of which resulted in national presentations. She also has served as a member of honors thesis committees in the College of Education and Health Professions, Fulbright College of Arts and Sciences and Bumpers College of Agricultural, Food and Life Sciences. Hagstrom has left a long-lasting mark on honors education in her college and across health preparatory and related programs at the university.