Rachel Glade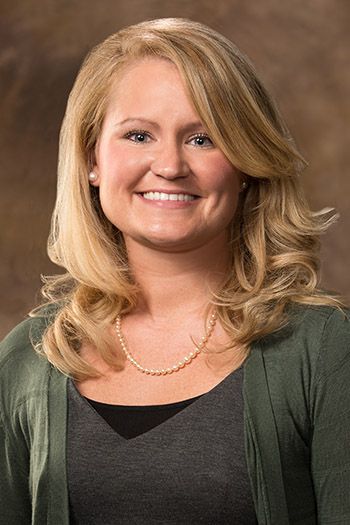 Rachel Glade, clinical assistant professor and program director for the communication sciences and disorders program, College of Education and Health Professions.
Rachel Glade has served on the COEHP Honors Council for the past two years and co-led the Health Teams Abroad Sweden course that included honors students this past year. In the past three years, Glade has chaired 11 honors theses for COEHP, served on an additional eight honors thesis committees and also mentored eight undergraduate research projects.
Her students have conducted research on topics such as how adolescents with hearing loss experience bullying and the impact of hearing loss on executive function skills and working memory in young adults. All of her honors thesis mentees received funding for their research and presentations of their work, and one received a SURF grant. Glade's honors students have consistently presented at local, state and national conferences.
Glade has won numerous awards at the U of A, including the Outstanding Service Award for Rehabilitation, Human Resources, and Communication Disorders (2017), Outstanding Faculty Mentor for COEHP's Honors Program (2019), the Innovative Teaching Award for COEHP (2019), and the University of Arkansas Faculty Gold Medal (2019).
In addition to her role as program director for the communication sciences and disorders program, Glade is also currently serving as the program's interim clinical education coordinator and was elected by her colleagues and peers across Arkansas to serve as the president-elect for the Arkansas Speech-Language-Hearing Association, a three-year term that started in January of 2019.