Roger Koeppe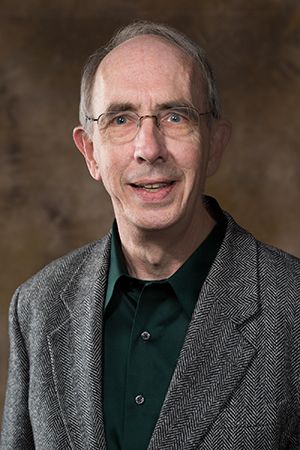 Roger Koeppe, distinguished professor of chemistry and biochemistry, J. William Fulbright College of Arts and Sciences. Koeppe's research focuses on membrane biophysics with a special emphasis on protein engineering and protein/lipid interactions. He has mentored more than 35 honors students during his 37 years at the University of Arkansas.
His research mentorship has proved to be especially fruitful for his students: four of them have won National Science Foundation Pre-Doctoral Fellowships, seven have been selected for the Goldwater Scholarship, and seven have published papers with Koeppe. Most recently, Bodenhamer Fellow Armin Mortazavi coauthored a paper that was featured on the cover of ChemBioChem (March 2016); he was the first of Koeppe's students to publish research while still an undergraduate. Jordana Thibado (B.S. in chemistry, magna cum laude, 2016) currently has a manuscript under review at Biochemistry, a journal published by the American Chemical Society.
Koeppe has served as honors advisor for the Department of Chemistry and Biochemistry for the past 12 years. He has previously been recognized with an Alumni Association Faculty Distinguished Achievement Award for Research in 1992 and the Fulbright College Master Researcher Award in 2000. Koeppe was a Fulbright America Scholar to The Netherlands in 1992.