Joe Weishaar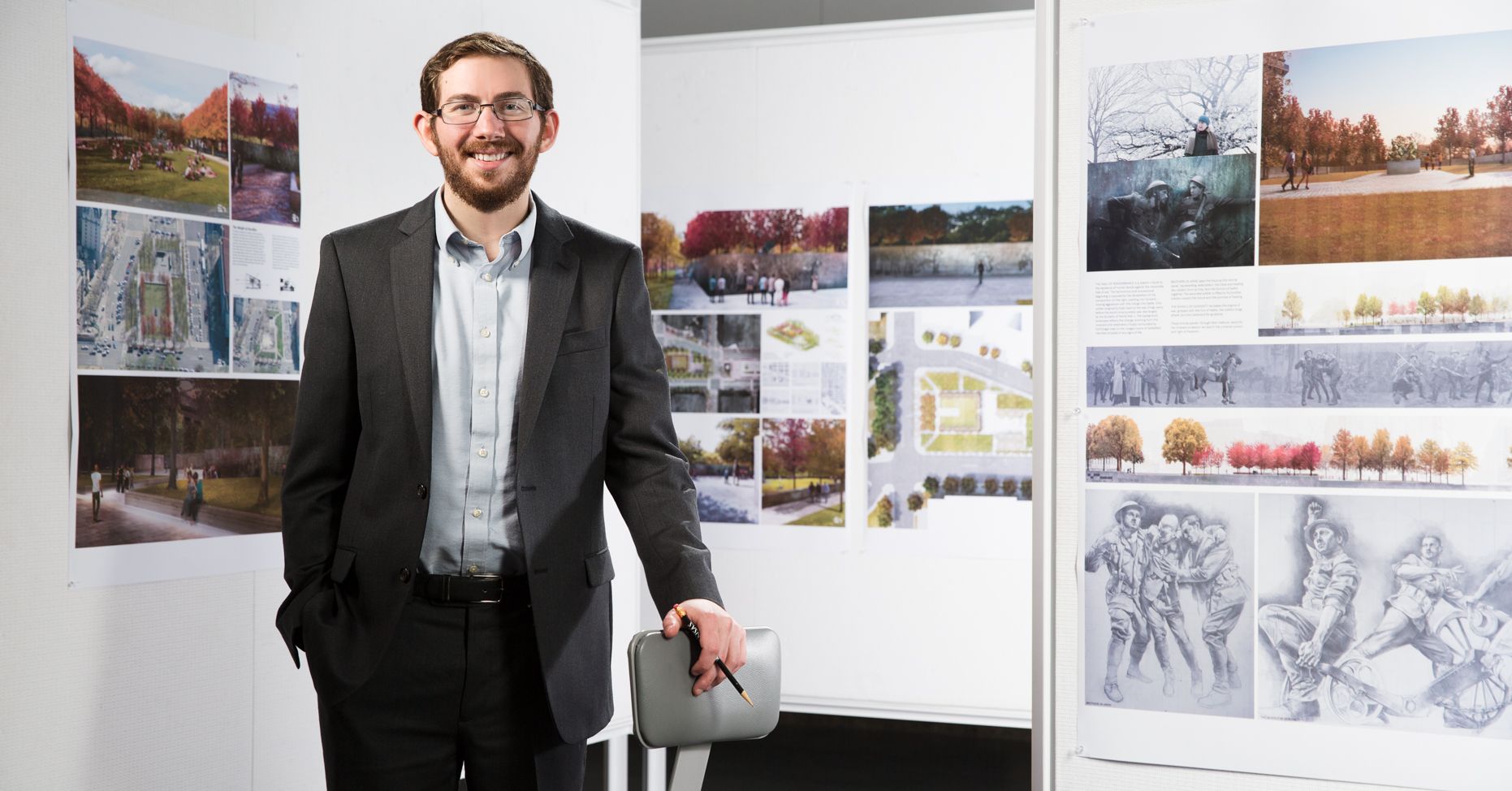 Honors alumnus Joe Weishaar was a 25-year-old architecture intern with a Chicago firm when late-night and weekend design work paid off big. He beat out more than 350 applicants from around the world to design the national WWI Memorial in Washington, D.C. The jury praised his proposal, The Weight of Sacrifice, as "elegant and absolute," and a "deceptively simple concept" that remediated a problematic site, Pershing Park, located just a block from the White House. His design centered around replacing the park's litter-strewn, dried-up sunken pool with a lawn at street level, and inserting an 87-foot-long bronze wall, featuring the work of sculptor Sabin Howard, that invited touch.
More recently, the project has hit a few road bumps, centered chiefly on a reconsideration of Pershing Park, which was designed by M. Paul Friedberg and completed in 1981, as an "exceptional example of a landscape design of the modern period," according to the National Park Service. The park is now being considered for the National Register of Historic Places, and that changes things, Weishaar said.
"Some of the things we wanted to do early on were met with great resistance," Weishaar said during a phone interview. "Now, the design calls for roughly 96 percent restoration of the existing park." His current proposal reduces the bronze relief wall to 57 feet in length and inserts it into the western edge of the existing water feature. A path through the water will allow visitors to interact with the sculpture, which has evolved from bas relief to high relief. "The figures really stand out from the ground and are more dynamic, so there is a bit of a gap; we don't want someone to walk too close, and get stabbed with a bayonet," he said jokingly.
Weishaar now lives in Washington and describes the past two years as "pretty much non-stop meetings." The Beltway battle over the World War I Memorial has taught him a lot of things, chiefly "how to run a business, how to be flexible and work with a team, and how to fight for something you believe in."
Completion, originally planned for November of this year, has been pushed back to 2021. But Weishaar is quick to emphasize that the project is "moving at full tilt," with $20 million – almost half of the total estimated cost of $42 million – raised. Weishaar will discuss the project, and the process, when he visits campus next spring.