Sarah Mesko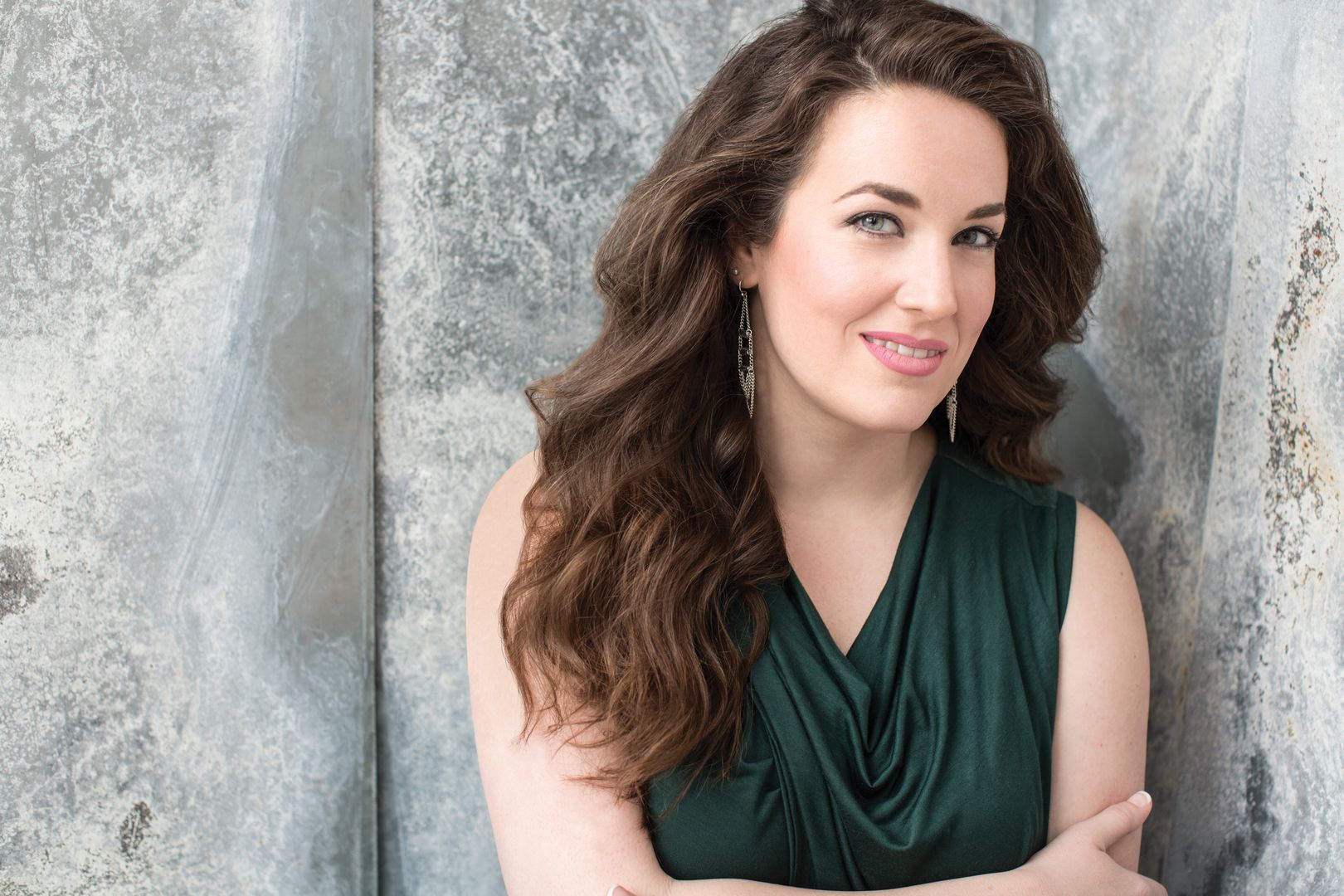 One of Sarah Mesko's earliest memories suggests that her flair for performance was in place at a very young age.
"There's a home video of my sister Emily playing piano," she recalled over a steaming cup of vanilla latte. "I'm three or four, in my pajamas, singing this little church song, and there was a lot of sound pouring out of my body – every note was there!" With her mother teaching piano to 40 students a week, and her father leading music in church on Sundays, Mesko was steeped in classical music from an early age. She sang occasionally in church, but her focus was on the flute, which she began studying at age 10. In high school, she played flute in the Arkansas Youth Orchestra for four years and was proud to be a "three-peat," making first chair flute in the All-State Band three years in a row.
Her first experience singing opera was in high school, when Richard and Laura Rosenberg, who ran the Hot Springs Music Festival at the time, offered her the role of Third Lady in the Magic Flute. Mesko loved singing opera, and expanded her musical studies to include voice. After auditioning in both flute and voice at several top programs, she chose the University of Arkansas. Talented faculty members, including Janice Yoes and flutist Ronda Mains, were the main draw, and upon arrival on campus Mesko stepped into a lead role, with extensive recitatives – musical dialogue, sung in Italian – in Handel's opera Rinaldo.
In addition to meeting these musical challenges, Mesko thrived on the academic riches offered up by the Honors College. She reeled off a number of memorable courses, from "physics for non-math majors" to an honors colloquium on the Byronic hero. Mesko's Bodenhamer Fellowship and an Arkansas Governor's Scholarship were also helpful, fully covering her tuition, room and board, as well as study abroad in Paris and three summers at the Aspen Music Festival, where she studied with top students and performers from around the country. Beyond the academic and financial support she received, Mesko credits her faculty mentors, Yoes and Mains, for helping her find her way as she struggled to choose between voice and flute.
"When I first came here, it was a complete toss-up. I wanted to delay the decision as long as possible," Mesko said. Over time, she began to lean towards a career in opera. "There was music, movement, dancing – it was a more holistic artistic experience," she mused. "Plus, the flutist has to stay in the pit, and I'm such a ham! I love to perform." In her sophomore year, she sat down with some trepidation to talk with Ronda Mains, who advised her student to "'give it some time, be courageous, see what happens,'" Mesko recalled. "She gave me permission to practice the flute less, to have voice be my primary instrument." Mesko ended up completing a degree in both flute and voice, and is glad she did. Though she's pursuing a career as a singer, she still pulls out the flute to play for her own pleasure, and uses it to learn particularly difficult musical pieces.
Mesko's career has been on the fast track since she left campus. The first stop was Rice University in Houston, where she earned a master's degree in vocal performance. She has since performed with the Metropolitan Opera, the Cincinnati Opera, the New York Philharmonic, the Santa Fe Opera and the Baltimore Symphony Orchestra, among many others. In her role debut as Carmen with the Washington National Opera Domingo-Cafritz Young Artist Program, Mesko won praise from The Washington Post for her "consistently beautiful sound."
Throughout the journey, Mesko has carried with her the lessons learned on the University of Arkansas campus. While singing with the Santa Fe Opera, she recalled, "the things Ms. Yoes told me finally clicked: emotional things about not getting in my own way, and not listening to myself while I'm singing." Mesko began recording her rehearsals, with the idea that she could listen critically afterwards, and noticed a big difference after she gave herself permission to just sing.
"I can hear myself being so careful in the early recordings, and that's not what thrills people! They want to hear people express joy through the music, pain through the music."