Shannon Sanders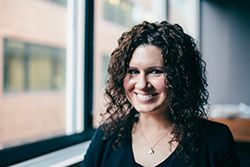 As a child in rural Arkansas, Honors College alumna Shannon Sanders was enthralled with the National Geographic documentaries she was allowed to watch on rainy days. The Bodenhamer Fellow, who graduated in 2009, didn't know then she would one day work for the premiere science and educational institution, creating short-form documentaries of her own.

Sanders is a video producer for the digital editions of National Geographic magazine, a job she landed last June after serving a year-long internship. Assignments have taken her from the pine forests of Canada to a brain science lab at Harvard, from the rim of the Grand Canyon to an innovative network of communicators in India.

Sanders is part of the burgeoning field of multimedia journalism, which combines audio and video elements with text and photos to tell a story. She works as a one-woman crew, shooting video and recording audio as she interviews her subjects, then returning to the office to edit her work. Her favorite project to date — and the most difficult — was about storm chaser Tim Samaras, killed in the El Reno tornado in Texas in May 2013. Sanders interviewed Samaras' colleagues across the U.S. and in Germany about his work and produced several video elements to complement the magazine's cover story last November.

"To get to tell that story was a large responsibility, but also very special to me," Sanders said by phone from her office in Washington, D.C. "It was an emotionally taxing story, but an honor to get to tell it."

Working for National Geographic is not always the glamorous job people envision, Sanders said. "People think you're in the jungle or on the Nile — something really exotic — but I'm usually closer to home."

Most of her stories focus on domestic issues, such as the Hunger in America series that went online in September 2014. Sanders produced stories in Iowa and Arkansas for her part of the series. The things she heard and saw were emotionally grueling, she said. "I cried on my way home every day."

Yet the work is deeply rewarding, even when the subject matter is tough. "I love all the stories I've done. Some are just more fun at the time than others."

Occasionally, Sanders teams with photographers in the field to produce video content from their work without going on site herself. One example is a richly textured piece featuring the sights and sounds of rural Transylvania for a July 2013 story on the disappearing way of life in that country. Culture stories — whether in far-off locales or closer to home — are Sanders' specialty. She's been surprised to find that she enjoys science stories, such as her report on pine beetles in snowy Alberta, Canada, just as much.

Sanders credits the journalism department at the UA for giving her the skills to succeed in multimedia journalism. "Even though I left print journalism, the training I received absolutely informs my story telling and my journalism every single day. I'm still telling stories just like a writer only doing it with a camera instead."

The small groups built into the Honors College curriculum helped the small-town student feel at home, she said. Being a Bodenhamer Fellow made her "part of a close-knit family from Day One." Sanders earned a master's degree in multimedia journalism from the University of Miami after leaving the UA.
Update: Shannon is now a senior producer for ABC News, where she produces original digital video content and oversees special projects and video series.