Lynda Coon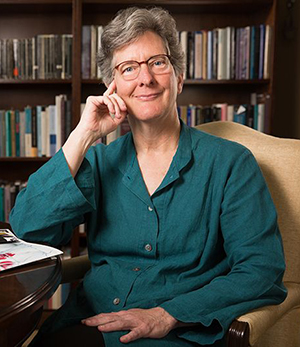 Lynda Coon, dean of the Honors College and professor of history, J. William Fulbright College of Arts and Sciences.

Lynda Coon's research focuses on the history of Christianity from circa 300-900. She has mentored some 20 honors theses on topics ranging from Matthew Owens' "Taming the Dead: Ghost Stories and Church Identity in the Tenth through Twelfth Centuries" to John Terry's "Nostalgia in the Historical Writings of the Venerable Bede," with the latter title being selected for publication in Inquiry: The University of Arkansas Undergraduate Research Journal. Coon helped to launch the Honors Humanities Project (H2P) in 1995 and continues to be actively involved in the four-semester sequence of courses, which is a defining experience for many Honors College students.
With colleague Kim Sexton, associate professor of architecture, Coon received Honors College seed funding to develop Medieval Bodies/Medieval Spaces, an interdisciplinary honors colloquium that traces the evolution of western medieval history through text, ritual and built environments. She served as the honors adviser in the history department for a decade, and has participated in approximately 35 honors student thesis committees. She has previously been recognized with the Fulbright College Master Teacher Award (1998) and the Nadine Baum Faculty Teaching Award (2000). She is a member of the University of Arkansas Teaching Academy.