Lynda Coon, Dean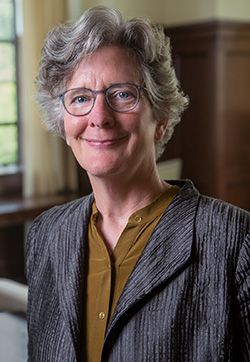 Lynda Coon brings a deep commitment to honors education and a fresh vision for the future to her new role as dean of the Honors College.
Coon joined the University of Arkansas faculty in 1990 as a history professor in the J. William Fulbright College of Arts and Sciences. She has mentored nearly two dozen honors students on their thesis projects and served as honors advisor in the history department for a decade. Several of her students were awarded SURF and Honors College research grants and a number of them have moved on to graduate studies at institutions such as Cambridge University, Columbia University, Yale University, and the University of Virginia.
In 1995 she helped to launch the Honors Humanities Project (H2P), an interdisciplinary four-semester sequence of courses taught by teams of top professors. She served as director of H2P from 1998-2004 and continues to be actively involved in the program, which has become a cornerstone experience for many honors students.
Coon earned a bachelor's degree in history at James Madison University and master's and doctoral degrees in history from the University of Virginia. She served as an associate dean of fine arts and humanities and director of the Religious Studies Program in Fulbright College prior to her appointment as Honors College dean. Coon also led the Fulbright College Study Abroad Program in Rome from 2001-04 and chaired the department of history from 2008-13.
Dean Coon's research focuses on the history of Christianity from circa 300-900. Her first book, Sacred Fictions: Holy Women and Hagiography in Late Antiquity, explored the sacred biographies of holy women in late antiquity. Her second book, Dark Age Bodies: Gender and Monastic Practice in the Early Medieval West, focused on the ritual, spatial and gendered worlds of monks in the Carolingian period (ca. 750-987). She is currently researching a book on imagining Jesus in the Dark Ages. With colleague Kim Sexton, associate professor of architecture, Coon received Honors College seed funding to develop Medieval Bodies/Medieval Spaces, an interdisciplinary honors colloquium that traces the evolution of western medieval history through text, ritual and built environments.
Coon is a member of the University of Arkansas Teaching Academy and has received three top teaching honors at the university: the Fulbright College Master Teacher Award in 1998, the Charles and Nadine Baum University of Arkansas Teaching Award in 2000, and the University of Arkansas Honors College Distinguished Faculty Award in 2014. In her free time, she enjoys walking her dogs up on Mt. Sequoyah, reading historical fiction, and visiting the numinous architectural spaces of the medieval monasteries of Europe.