Maribeth Lynes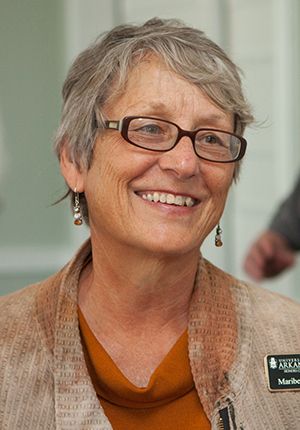 Maribeth Lynes, assistant dean of recruitment emeritus, Honors College. Lynes helped launch the Honors College fellowship program shortly after the $300 million Walton Gift was announced in 2002. Upon her retirement in September, she and her team had recruited more than 1,000 of the best and brightest students from Arkansas and beyond to accept fellowships, and helped the Honors College to almost double in size while continuing to support a very high level of student success.
In addition to recruiting top students, Lynes has worked to expand access to higher education in the region. As director of the Honors College's annual Advanced Placement Summer Institute, a week long workshop focused on training AP teachers, she has helped to increase the number of AP-certified teachers and expand AP course offerings throughout the southwest region. She has held numerous leadership positions in admissions and recruiting organizations and currently serves as chair of the Southwest Regional Council of the College Board.
In an effort to expand access to the honors experience, Lynes also proposed the idea for the new Path Program, which prepares talented students from underrepresented populations to excel at the U of A.