Visit Us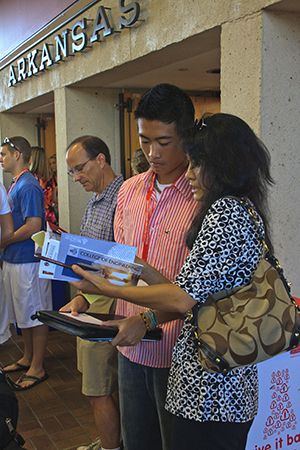 Virtual Visits
Students considering the Honors College have three great virtual options to learn more about our program:
Live Group Presentation Sessions - Students wanting to learn more about the Honors College are encouraged to sign-up for a group presentation session.
1:1 Virtual Chat - Our associate dean of enrollment, Dr. Noah Pittman, will be hosting 1:1 virtual chats throughout the fall to discuss the Honors College and the admissions process with prospective students. To reserve a time, please visit the chat registration website.
Honors College Presentation on YouTube - Students who want to learn more about the Honors College on their own time are encouraged to watch our admissions presentation on YouTube. For even more information about the Honors College, you should also visit Honors TV.
Recruitment Events During the Academic Year
Fellowship/Scholarship Application Workshop (Wednesday, November 4 at 6 pm or Saturday, November 7 at 10 am)
Looking for tips on how to craft a strong fellowship/scholarship application for the University of Arkansas? Experienced application reviewers from the Honors College will host virtual sessions to help students understand each element of the application, including the academic resume, the three works of literature section, and the essay. Students can choose from one of two session options that fit best with their schedule. Space is limited, so register today!
Honors College Virtual Convocation (Saturday, October 3)

High school seniors and juniors are invited to Honors College Convocation, which is a great way to learn more about us – you'll get to hear from Honors College faculty and staff, hear firsthand about undergraduate research and study abroad, and get the latest information on how to assemble a strong application for fellowships and scholarships. Two sessions will be availble on October 3, one in the morning and one in the afternoon.
Did you miss Convocation? Visit our Convocation YouTube Playlist to watch recordings from the event along with additional videos about the Honors College.
Honors College Discovery Day (May 2021)

High school juniors and sophomores are invited to our spring event, Honors College Discovery Day, which is designed to serve as an introduction to the Honors College and the University of Arkansas campus. Students attending the event will learn about the benefits of the Honors College, interact with faculty and staff representing departments that routinely work with honors students, and learn what they can start doing this summer to make themselves competitive for fellowship and scholarship applications.
Campus Visits
Can't make Discovery Day or Convocation? No worries: contact the Admissions Office anytime to schedule a campus visit.
University of Arkansas Mailing List
Would you like more information on the University of Arkansas, the Honors College or a specific program? The Admissions Office mailing list is your one-stop shop for gathering all of the info you need. And of course, we're glad to visit with you anytime about the Honors College.
We look forward to meeting you!