Autumn Lewis Spicher, Director of Development
Autumn Lewis Spicher, Director of Development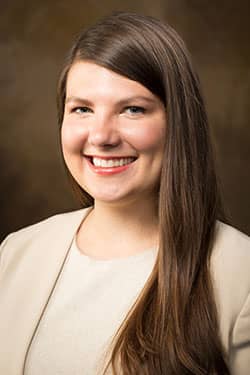 As a former Honors College Fellow and student leader, Autumn Lewis Spicher knows firsthand the power of the coursework, mentoring, funding and networking opportunities that the Honors College offers to students. Now, as the college's Director of Development, she is working to expand those opportunities for future generations of students.
Spicher launched her career in Washington, D.C., where she worked as a staff assistant in the Office of Senator Mark Pryor and as a development officer and state policy analyst for the National Council on Teacher Quality.
Spicher returned to Fayetteville in 2017 to work as the assistant director of development for the College of Engineering, where she managed a portfolio of more than 150 donors and prospective donors. She was responsible for soliciting gifts from alumni, corporations, and foundations and helped to expand private gift support for the college. Most recently, she worked as the associate director of placement and operations for the Arkansas Academy for Educational Equity, an organization focused on transforming the way that teachers are prepared to lead and serve across the state of Arkansas.
Spicher earned bachelor's degrees in political science and economics, summa cum laude, from the University of Arkansas. She established a strong track record in leadership as an undergraduate, serving as the Associated Student Government chief of staff and chairing the Distinguished Lectures Committee and the Volunteer Action Center Literacy Program. She worked as an intern in the Office of the Chancellor and was active in Chi Omega Fraternity.
Spicher won numerous honors during her undergraduate career, culminating in the Senior Honor Citation for Top Female Graduate from the University of Arkansas Alumni Association in 2014. She was a Harry S. Truman Scholarship Finalist in 2013 and served as a Presidential Fellow for the Center for the Study of the Presidency and Congress, 2013-2014. Spicher was inducted into Phi Beta Kappa as a junior in 2013 and was a Gates Cambridge Scholarship Finalist in 2017.
Spicher will graduate with her master of public administration degree from the University of Arkansas in May 2021. In her free time, she enjoys tending to her flower and vegetable gardens, undertaking DIY projects with her husband, spending time on the lake, and traveling to new countries.