Allison Rasche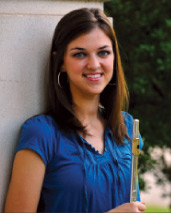 When Allison Rasche finishes her honors thesis, she will have a CD of her own music, a strategy to market it, and plenty of hands-on experience with the business side of the music world. Allison, who has been playing music since she was five years old, was excited to find out she could study music business, a major that combined her passion for music with her interest in business. "I love having classes about my favorite subject," she said.
Under the direction of faculty mentor Ronda Mains, chair of the music department, Allison is recording a CD that will include original compositions as well as work by other composers. She has composed pieces for flute, piano and full orchestra. To record the orchestral piece, she contacted musical friends, organized a practice and recording session, conducted the group of around 20 musicians, and even found scholarship funding so she could reimburse the participants.
When Allison is done editing and producing her album, she will turn to the business side of things. On her CD, she plans to include at least one piece that is copyrighted by another composer, so that she can gain experience dealing with copyright permissions. She also plans to develop a potential marketing strategy, finding the demographic who will most likely purchase her music and figuring out how to reach potential customers. When she graduates, Allison plans to look for a job in the music industry so that she can continue to use the creative music and business skills she has honed at the University of Arkansas.