Carly Bartow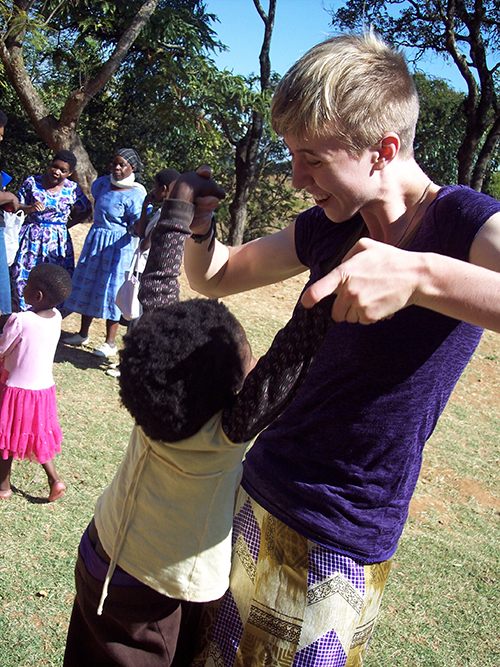 After a dozen or so meetings with community members, Carly Bartow had big plans for the 180-foot by 150-foot parcel of land nestled at the foot of Mount Mulanje. The proposed new community center serving this rural area of Malawi would include a kitchen, indoor and outdoor dining areas, workshops and a bookstore; and a garden with a chicken coop, duck house, fish pond and rain water tanks for irrigation. She'd assembled a small army of villagers to help her take the first, crucial step in design – measuring every inch of the site.
The need for the simplest of tools brought proceedings to a halt.
"I spent all day looking for a tape measure, and when I found one, it broke," she recalled. "I just needed a 15-meter tape measure, you know? We were working with a big site. In America, you'd just go to the hardware store." Unexpected delays are a normal scenario in Africa, she emphasized. "Things go wrong – we had to do a lot of on-the-spot thinking."
Carly experienced the challenges and the joys of service learning in Malawi thanks to a partnership between the Honors College, the Office of Study Abroad and Peaceworks. She is an architectural studies and philosophy major, with minors in sustainability and urban planning. Carly had never gone beyond U.S. borders or traveled alone before, but "I'd always felt called to go to Africa," she said.
She began in Blantyre, working for five weeks with businessman Chris Walker to design a kitchen and public restrooms for Pa Nthunzi, a sustainability center with demonstration gardens. Permaculture, a type of sustainable agricultural system modeled on natural ecosystems, informed every aspect of Bartow's design. For example, composting toilets would be linked to a biogas tank that would fuel gas and lighting in the kitchen. "Poop never gets in the kitchen," Carly assured with a grin. In the absence of air conditioning, she researched prevailing winds and the path of the sun, then designed a passive air-cooling tower and clerestory windows to ensure good air circulation.
Although there were a lot of design constraints, Carly took care to include grace notes, such as a curved wall made of cement, stone, rebar, and empty wine bottles, to let in light. "The rebar is necessary for security, but it's actually kind of beautiful, too," she said.
For the remaining five weeks Carly gathered input and sketched a master plan for a community center and garden in Chambe, a small village that affords stunning views of tea fields and Mount Mulanje. In this rural area, she relied on translators but quickly connected with locals through community meetings, mountain climbing treks and a wedding.
Once Carly scored that tape measure, community members, from elders to the youngest school children, helped her measure and then measure again. "Nothing's 90 degrees, and we didn't want to get rid of anything that was important, so we had to work around the mango, lemon and fig trees, for example," Carly said. "In the end, we had to measure everything five times from every direction."
Now back on campus, Carly continues to perfect her designs, and work is ongoing to source materials and funds. She hopes to see the projects built, but the most powerful takeaway may be the personal growth she experienced from tackling tough projects so far from home. "I gained so much in confidence about who I am, and learned that it's okay to just be me," she said. "I grew into myself."