Jennifer Herrera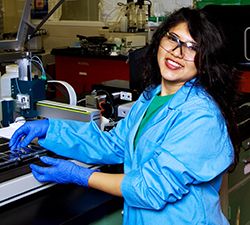 As the first person from her family to attend college, Jennifer Herrera, a chemical engineering honors student, had something to prove. "Being female and Hispanic, I wanted to fight against the stereotype that I would never be anything, especially being from South Central Los Angeles," she explained. Not only has Jennifer proven herself to be a talented and dedicated student, she has become an important part of the University community, and she's found many ways to help others, both on and off campus.
Jennifer is active in the international community on campus. She serves as a cross-cultural mentor, helping international students adapt to life at the University. As the coordinator and vice president of the International Students Organization, she helped organize events and activities. She has also participated in Leadershape, a campus program that promotes leadership skills. Her experiences at the University of Arkansas have given Jennifer the skills and confidence to help people off campus, as well. Visiting Guatemala one summer, Jennifer noticed a local elementary school with only one teacher, so she volunteered to help out, teaching reading and math to first through sixth graders.
One of the things Jennifer values about her experience at the University of Arkansas is the opportunity she's had to meet students from many different backgrounds. "I've learned to bond with people with different goals and experiences," she explained.
Jennifer is currently working with Shannon Servoss, an assistant professor in chemical engineering, on research that may help combat Alzheimer's disease. "The purpose of our work is to engineer peptoid-based molecules to stop the aggregation of the amyloid-beta protein found in Alzheimer's disease patients," she said. When she graduates, Jennifer plans to use the academic and social skills she has gained to continue improving the lives of people all over the world.