Josh Anderson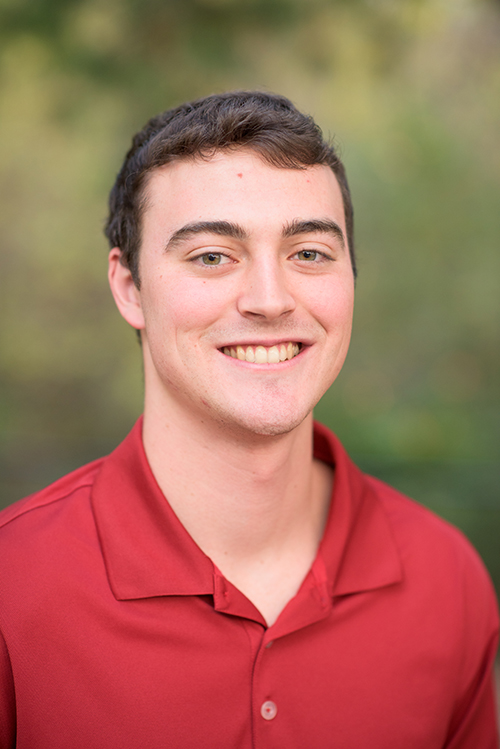 "The dog gets fatter every time I come over here," Josh Anderson joked after he entered the small, dark apartment. The shepherd-mix mutt wasn't the only thing he had an eye on. The honors pre-med senior has a packed schedule but carves out time every week for an easy chat with this patient, Robert W., who agreed to share his experience in this article. They discussed squirrel hunting and the IRS but also touched on the patient's two-pot-a-day coffee habit and the dizzy spells he's been having lately.
For the last year and a half, Josh has been making these home visits as part of the Care Partners program, a new partnership between the University of Arkansas and Washington Regional Medical Center in Fayetteville. He's learning how to connect, listen and process a one-on-one relationship into understandings that lead to positive patient outcomes. His patient has benefited, as well: he's seen a sharp decline in hospital visits, and logging his cigarettes has encouraged him to cut down from smoking two packs a day.
The student health coaches get some expert help in navigating those home visits. "We've been having bowel conversations," another health coach reported at Washington Regional Medical Center during one of their weekly meetings. He got a high-five from Dr. Mark Thomas, physician and "head coach" for the Care Partners program, who knows that sometimes uncomfortable conversations are necessary for discoveries. Under Dr. Thomas' guidance, the students convene each week to turn observations from visits into a plan of action.
A coach introduced the group to a 77-year-old with hallucinations and chronic pain who can't read. She has a laundry list of serious medications to treat these symptoms but can't read their instructions. Instead she tries to keep to her regimen by memorizing the colors of each pill. "I can't imagine that this is even possible. This little white pill next month might be a green pill, depending on who the supplier and manufacturer is," said Dr. Thomas. The student health coaches came up with good ideas to create a more reliable system for her, including labeling each bottle with a photo of the body part it affects. Given the complexity of her situation, Dr. Thomas also recommended an in-person follow up with her medical provider.
This town and gown partnership launched in 2013 and has been a win-win for the students and hospital. "We have students without any practical touch experience. They need volunteer hours and experience before they make the commitment to a career in medicine," said Fran Hagstrom, assistant dean of health professions. On the other end, because patients with low health literacy are more likely to use the emergency room for primary care, "the top 5 percent of patients use 65 percent of the resources," according to Dr. Thomas. The Care Partners program has proven useful for cutting down on these costly repeat E.R. visits. For example, from the first quarter to fourth quarter of 2014, E.R. visits among a group of patients that included those enrolled in the program decreased from 8 percent to 2 percent, with none leading to hospital readmissions. "This is a small population, but encouraging," Dr. Thomas noted, adding that they are resisting the impulse to grow the successful program. "We don't want to lose the small group dynamics and mentorship we can do with individual students at our current size. Our aim is just as much to change future health care providers as it is to help current patients."
In the three-course health coaches sequence, students begin by listening to lectures, viewing case studies and shadowing before getting hands-on experience with a patient. Josh is a graduate of the pilot class of health coaches but has found the program valuable enough to continue on a volunteer basis. "Being able to go out and experience the human side of medicine has been totally invaluable, and it honestly makes me more excited about the future. It's something that will motivate me through my years in medical school and gives me something to look forward to," he said.
For now, his focus is on his patient's dizzy spells. "If I stand up fast, I'm gone," the patient said. Josh didn't use the medical term 'atrial fibrillation' but casually slipped in advice from Dr. Thomas: "It helps if you sit up for ten seconds before you stand." With the tip passed on, Josh made a note to follow up in his blue binder and headed out, until next week.